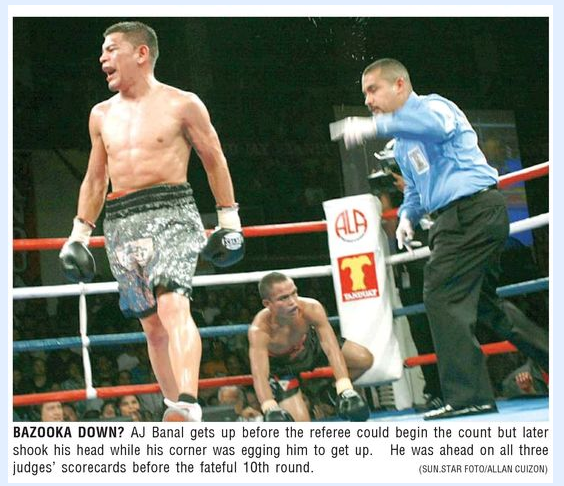 When Antonio Lopez Aldeguer speaks, you listen. Yesterday morning, exactly 36 hours after his most prized apprentice, AJ "Bazooka" Banal, collapsed in one of Cebu's monumental upsets, I listened.
When I asked how he felt, ALA didn't suppress his feelings.
"Very, very low," he replied.
Understandably so. AJ Banal, only 19, lived half of his life with the Aldeguers. Residing in Brgy. Ermita, he was plucked from the doldrums and hand-picked as The Chosen One. To the ALA clan, he's "a member of our family."
How is AJ? I asked. "He's doing okay," Mr. Aldeguer said. "He'll be out of the hospital today. Nothing serious, no injuries."
What transpired next was an 11-minute phone conversation I had with ALA, whose insights and acumen are unmatched in boxing.
What happened? I queried. "His body collapsed," ALA said. "He allowed himself to be hit. AJ took a lot of punches to the liver. He received too many body punches."
Should the referee, I inquired, have stepped in more to stop Concepcion from punching while they were locked together?
"I don't want to make that as an alibi," he said. "AJ just got hit and hit in the body. AJ should not have held Concepcion's arm and allowed him to box him using his other hand."
Excuses, you see, ALA despises. Always, he is direct and candid.
Over-trained? Was AJ? "No," he said. "I've been reading a lot of reports saying that. That's not true. On the matter of conditioning, AJ was better conditioned. Factor one: AJ's weight was a perfect 115 lbs. The opponent? He had to shed 1 ½ lbs. the day before. The week before the fight, Concepcion also had to reduce weight. Next, jet lag, which Concepcion had to endure. Plus, we were at our place (Cebu) while the opponent had to adjust to the hotel, to the food…"
When I mentioned to ALA that, based on many reports, AJ Banal was superbly trained—and that's why his looking fatigued starting the 7th round was perplexing—he agreed.
"AJ is actually the perfect athlete to train," he said. "He is very dedicated and disciplined. He is a good boy. And his attitude is fantastic. His mistake was that he allowed himself to be hit."
In that 10th round, I next asked Mr. Aldeguer, we all saw that AJ stood up right after the referee's 10th count. Why didn't he stand before the final count and, instead, run around to exhaust the remaining 25 seconds?
"We don't know what's on his mind," said ALA. "Yes, he was winning comfortably in points and could have easily won the fight had he stayed on. But we don't know. Only AJ can answer that. We don't know what he was thinking at that point."
As to Rafael Concepcion? Like all of us who witnessed the fight at the jam-packed Cebu Coliseum—and to the tens of thousands more who watched on TV—ALA was all praises for "El Torito."
"Concepcion wanted it more," said ALA. "No excuses. We lost the fight because the other guy wanted it more."
True. In boxing, more than any other sport because it's one-on-one, that adage is unquestionable: Whoever wants it more wins. And, last Saturday, the Panamanian had more guts, tenacity, spirit.
Asking where he was inside the Cebu Coliseum because I didn't see him, Aldeguer replied, "You'll never see me near the ring. I watched fronting the TV because I can analyze the fight better. Also, I don't want the limelight. I don't want the TV focus. In my 20 plus years in boxing, I've never stood beside the ring. I've never gotten up the ring. I want the honor to go to the boxers."
Finally, I asked, "What, to you, is failure? You've witnessed, through the decades, a lot of defeats in boxing. How do you define failure?"
His answer, as expected, was awe-inspiring. An ALA to AJ admonition, he said: "You never reach the top unless you reach the bottom."