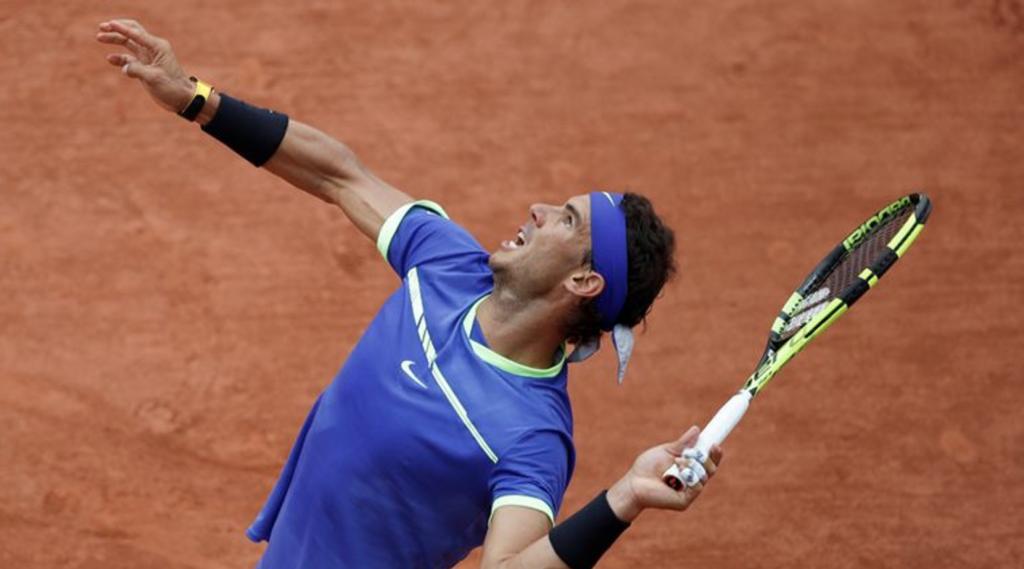 (Photo: Christian Hartmann/Reuters)
Dominance. That's the one word to best describe the past two weeks of Rafael Nadal. It started at the Australian Open. Leading 3-1 in the fifth set against Roger Federer, he was at the brink of winning his 15th major. But the Swiss reeled off five straight games to steal the match. Still, that impressive showing from Rafa would continue. He won a 10th title at Monte Carlo and Barcelona. And now, this, "La Decima." He has played 81 times at the French Open and won 79. How amazing is that record? On his first event as a 19-year-old in 2005, he won in Paris. He won four straight before losing to Robin Soderling. After that loss, he won another five straight before a defeat to Novak Djokovic in 2015. Will this be another five year streak? No less than past champion Gustavo Kuerten has declared: "Rafa could potentially win up to 15 times." I agree. If you saw any of his seven matches the past 14 days, you'd nod your head in agreement.
Rafa lost only 35 games in seven matches. That's an average of five games surrendered per match — and these are best-of-five setters. He now moves to world No. 2 and, given his tremendous start and because he has few points to defend in the year's second half, there is a good chance that he'll end the year at No.1.
Nadal this 2017 has been the best I've seen. He steps forward to strike that crosscourt backhand early. He serves wide or down the T with unpredictable variety. His forehand is so dangerous and offensive that even if he's in a defensive position, he can hit an outright winner. He also has a new coach in the former Roland Garros winner Carlos Moya, who hails from the same island of Majorca. Best of all, Rafa is healthy. Last year, he had to quit in the third round because of a wrist injury. Today, the only injury inflicted is upon his opponents who have to run side to side and suffer in defeat.
My dad Bunny watched the Madrid Open last month and, watching up close, he noted what we know well: Rafa plays a physical game. Famous in Spain, he's a bull-fighter; always charging, attacking and aggressive. On the tennis court, what differentiates Rafa is his spin: Unlike a Roger or Sampras who play with flatter shots (thus, less margin for error), the groundstrokes of Rafa clear the net high. They land deeper in the court and kick upon landing. The spin rate exceeds 4,000 rpm.
Humility. That's the another astonishing word to describe Rafa. (Lucky for us tennis followers, it's also a fitting word to describe Roger.) In a serious of post-match interviews, Rafa was never cocky or boastful; he credits his success to hard work and dedication. He's the man who once said, "I think the tennis is only a game. You can lose. You can win. After that? In life, there are much more important things than tennis."
Rafa now has 15 majors. Roger has 18. Come July 3, the winner of the year's first two majors will meet in Wimbledon. This early on, I'm hoping for another final between the two. Roger is all-confident; so is the winner two days ago.
Rafa's 10th crown isn't the only major story in Paris. There's also a player who turned 20 just a few days ago and had never won a WTA tournament before. Employing a very aggressive game, her average forehand shot is clocked at 76 mph — faster than Andy Murray's 73 mph. She scores 50 or more winners per match and she's the Roland Garros champion. Will write a story soon on Jelena Ostapenko.