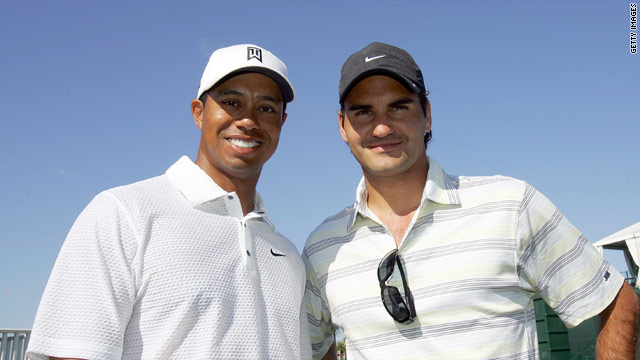 They're brothers. One was born in Dec. 30, 1975; the other in August 8, 1981. They both wear shirts with the swoosh logo. One has the label "TW" and the other has "RF." On their wrists are wrapped Rolex watches. One wields an iron club while the other clubs an iron called a tennis racket. They're both 6-foot-1 weighing 185 lbs.
Tiger Woods and Roger Federer are the so-called GOAT. Spelled fully, that's Greatest Of All Time. True? No and Yes. Let's rewind the clock and return to 2008. That year, Tiger and Roger stood at the top of the golf and tennis worlds and, talking of similarities, were both tied at 14 Grand Slam titles apiece.
That was nine years ago. A lot has happened since. With Tiger, he was en route to easily overtaking Jack Nicklaus' 18-major trophy collection. There was zero doubt among golfing experts then that he would be crowned The Greatest. But nobody expected the catastrophe of his married life, highlighted by the club-wielding, car-wrecking tee shot of Elin Nordegren, which ultimately led to their divorce.
Meanwhile, Mr. Federer has led an immaculate and unblemished family life; he and his wife Mirka will celebrate their eighth anniversary this Tuesday and are blessed with two sets of identical twins, Myla Rose and Charlene Riva, and the boys, Leo and Lennart. On the tennis court, while Tiger has added zero major trophies to his collection, Roger has compiled four more, bringing his tally to 18 — the most of any male tennis player.
"What Rog has done is he's been dominant for so long," Tiger said last February after Roger won in Melbourne. "To compete against Novak (Djokovic), to compete against Rafa, and now Andy (Murray). He's had a litany of guys who have won slams. And no one wins slams at his age. And for him to come back, after having to take that much time off, and for him to get the timing, that's the hardest part. As you get older, you change your game and you do things slightly differently, and he did that."
Asked about Tiger's kind words, Roger answered: "I really wish, of course, he could come back and win again — I wouldn't want anything else but that. It would be great."
Let's recap: Tiger is stranded at 14 majors and, given his endless bout with injuries, it doesn't look likely that he'll win another big one. Plus, he's 41 years too old. So, is he golf's GOAT? No. He was a sure candidate but he ruined that with his personal travails. And while Tiger's trajectory has been downhill (like the specialty of his ex-girlfriend Lindsey Vonn), Roger's is all-positive. Come Wimbledon, he'll be the favorite and he's eyeing to regain that No.1 ranking.
The main difference between the two? How Roger treats the most important person in his life. After winning the Australian Open, he credited one person for his resurgence: his wife Mirka.
"She's been there when I had no titles and she's still here 89 titles later, so she had a big part to play in the win," Roger said. "And that's why I'm just happy she's my wife now."
If only Tiger had not been such a tiger.