Both rhyme. Both involve utilizing two God-given legs to power a vehicle up a steep mountain. Both are celebrated. Of course, nothing compares to the July 1 three-week-long race in France called "Le Tour." But here in Cebu, we have one cycling race that's renowned.
It's the 15th edition of Ang Tour ni Frank and it's happening today and tomorrow. It all started when Frank Gatdula — who moved to America after high school in 1976 — visited his hometown of Compostela.
"In 1999, I came home and met Dr. JV Araneta who introduced me to Cebu Recycle members," Frank said. "Riders who would race at the North Reclamation Area every Saturday morning and put in P20 as entry fee. It was like a 'bente-bente' winner-take-all race. Watching the guys racing hard for little money impressed me so I decided to donate a little cash to add to their prize money. From then on, every year I come home, I would sponsor an event during Sinulog. It was originally called 'Cebu Recycle Race Series' and somehow someone started calling it Ang Tour ni Frank (TnF), synonymous to the big Tour de France. My little donation snowballed into a big event, from bente-bente criterium race to a 3-day stage race that has been attended by a few foreigners."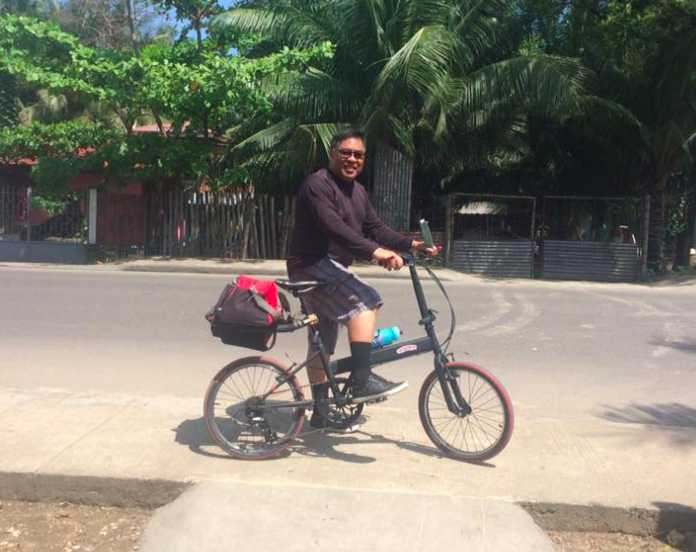 Pictured above, Frank Gatdula's love affair with cycling began in 1983 after he entered the U.S. Air Force. He hasn't stopped pedaling since and has raced in the U.S. Cycling Federation (Category 4).
"TnF is Cebu's longest organized road race," Frank added. "When we started, it was my intention to help build the grassroots. I sponsored a few local riders, including buying new road bikes for those with potential. Over the years, the vision has developed and we now have more bikers and road events."
The TnF schedule? "Today (Saturday), we will have two races," he said. "First stage, to start outside JY Square, traverses through the Busay Road and finishes in TOPS. This is the most challenging stage of the TnF. The 2nd stage is the Twilight Criterium near Lantaw SRP. It's a 2.2 km. stretch with two hairpin turns for 40 minutes. The second day (tomorrow) will take us from Danao to just north of Lugo with a distance of 90 kms. We also have two 'King of the Mountain' awards."
A total of 150 participants are expected with over 30 arriving from outside Cebu. And since this is the 15th anniversary, Frank has added special awards for Most Aggressive Rider, Oldest Rider and Youngest Rider. To avid cyclists, don't miss Ang Tour ni Frank.
Read "Appreciating the Tour ni Frank" by my good friend and fellow writer, Dr. JV Araneta.