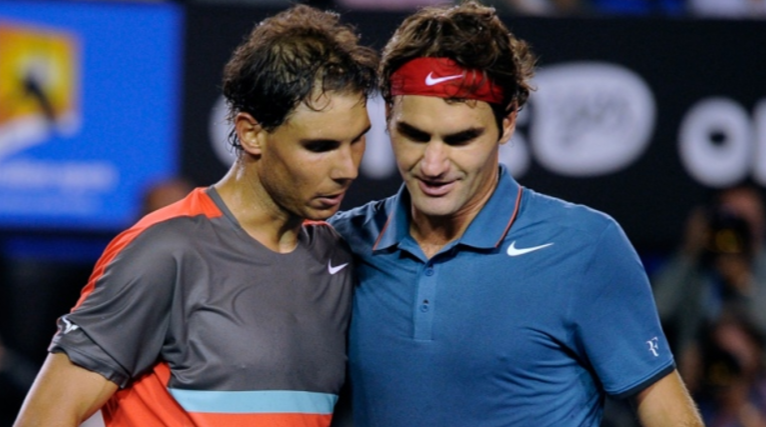 Few rivalries in sport can rival the one of Federer-Nadal. Swiss vs. Spaniard. Single-handed backhand utilizing the right arm against a two-fisted lefty. GQ's "Most Stylish Man of 2016" vs. the underwear model of Tommy Hilfiger. Wimbledon grass maestro vs. French Open clay-courter.
But as contrasting as their playing styles are, you cannot find two future Hall of Famers (with a combined 31 majors) who are more humble, genuine and courteous — the perfect role models off and on the court in this era of trash-talking Trump and Duterte. (Or Floyd Mayweather and Conor McGregor.)
Who will win tonight? Ha-ha. It's like asking me if I prefer biking or running, or tennis over a steak dinner. Crazy comparison, I know, but that's the offering in tonight's menu.
Tennis is like boxing. It's mano-a-mano. But what makes a five-hour marathon played inside that rectangle even more challenging is this: you're alone. Split in between by a 3-foot-tall net while swatting that bouncing yellow ball, there's nothing else that will separate Roger and Rafa.
Nobody expected this. Not even these two legends who'll trade 19-shot blows, slice drop volleys, and pump fists while respectfully staring the other. Tonight, blood in the form of sweat will flood Rod Laver Arena. Passing shots will wow the Aussies as 205-kph aces will fly; Roger fans will paint their faces red while Rafa's followers will hoist bandera Española.
In this era of boring backhands by Murray and Djokovic, an endless pingpong of counterpunches, who'd have expected the 17th and 9th seeds to meet? Destiny.
For Roger, expect him to cry if he wins No. 18; nobody is more gifted than RF (even his baby-making skills are incomparable: he has two sets of twins, girls then boys, with wife Mirka).
For Rafa, tired after a five-hour slugfest with Dimitrov and unfairly given only 39 hours of rest compared to Fed's three days, it's all about his heart. No one gives 1,001 percent, screams louder, punishes his body more than the Mallorcan. Roger fans hate Rafa but they honor his doggedness and grit. But as ferocious and Spanish bullfighter-like as he is, Rafa is polite and gracious.
In defeat or in triumph, he and Roger exhibit this outstanding humility — not just as athletes but as human beings. Consider ourselves blessed. This is it. I'm doubtful if this boxing slugfest — their 35th fight — will ever happen again. Go, Roger! Vamos!