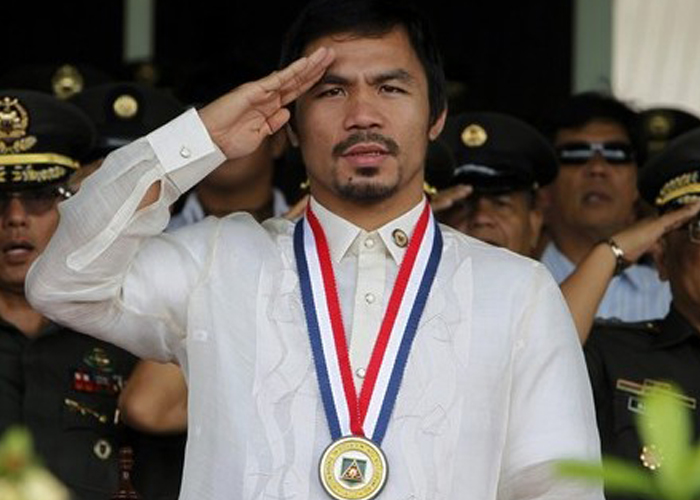 There is little doubt that, come May 9, 2016, when the elections unfold, the planet's most famous Filipino will be admitted entry into the Senate. It's not a question of "if" Emmanuel Dapidran Pacquiao will be victorious but by what ranking among the Top 12.
In the 2013 elections, Manny wanted to run as senator but he was then ineligible. He's now 36 years of age — leapfrogging the barrier that states that one has to be 35-and-older.
Having fought a total of 65 fights in his professional career, sporting a 57-win, 6-loss and 2-draw record, Manny is nearing the end of his boxing career. You and I know this. He's lost three of his last six and has not knocked-out an opponent since Miguel Cotto in 2009. At 36, one's physical state is in decline. Manny knows this and he knows that he has, at best, one career-ending skirmish left in his career.
My suggestion for Pacman? Stage that finale in Manila! Do it for your Pinoy fans. Manny doesn't need the money. He grossed $150 million when he faced Floyd Mayweather, Jr. last May in what was billed as the highest grossing fight of all time. In his career spanning two decades, he's amassed billions of pesos.
Do it for us, Manny. You know when the last time was when Manny fought on Philippine soil? I saw that contest inside the Araneta Coliseum against Oscar Larios in July 2006. It will be 10 years next year since he's last fought before his fellow Filipinos. The ideal time for Manny to don those gloves and fight once more is before the May elections. When he becomes senator, he said that he wants to treat it seriously and not be absent, like he's often been as congressman. Would you believe that, as Sarangani representative, Pacquiao was present in Congress only four times in 2014?
"I will have to give up the other things that require my attention. If you are a senator, your focus should only be your job and your family," Pacquiao said in an interview.
This admission offers an insight into Manny's plans: Once a senator, he'll give up boxing. "I think I'm ready (to retire). I've been in boxing for more than 20 years," he said on ABS-CBN. Now that Manny's rotator cuff tear injury appears to be healed, the target date for his next fight is February or March. It can't be later than that because Manny still has to campaign for at least a month before we go to the polls.
Bob Arum confirmed his ward's plans in an interview last month with Dan Rafael of ESPN: "He's not going to run for re-election to congress. Instead, he's running for senate, and in the Philippines, the senate is a national election. So he wants to fight and then concentrate on the campaign. It's very important to him. I've spoken to Manny a couple of times (recently), and he is more interested in talking politics than boxing."
Against who? ESPN's Dan Rafael, one of the most respected boxing writers, said Arum revealed five possible opponents. Wrote Mr. Rafael: "The list includes leading candidate Amir Khan, a former unified junior welterweight titlist and top welterweight contender, welterweight titleholder Kell Brook, junior welterweight titlist Terence Crawford, junior welterweight contender Lucas Matthysse and Juan Manuel Marquez, the Mexican great Pacquiao has waged four outstanding fights against, going 2-1-1 but finishing the fourth fight on his face as the result of a gargantuan sixth-round knockout in December 2012… England's Khan (31-3, 19 KOs), passed over multiple times by Mayweather, who continually mentioned him as a leading candidate only to fight somebody else, knows Pacquiao well. They sparred together when Khan was trained by Hall of Fame trainer Freddie Roach, Pacquiao's longtime cornerman."
To me, the most riveting is "Pacquiao vs. Amir Khan." The only problem? Arum wants it in Las Vegas. Not again, Bob!
Instead, come March 2016, Manny's last boxing fight should be inside the Philippine Arena. What a farewell — and a perfect campaign rally consisting of 55,000 screaming fans all cheering for the future senator.