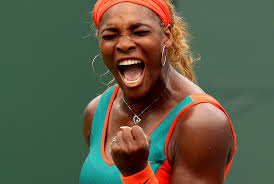 Tennis, like golf, has four major tournaments. When we talk of "major," these are the biggest of the biggest. Of the ATP and WTA calendar's hundreds of tournaments that litter the globe, these four stand tallest. Like the Oscars. Or the World Cup. They're also often referred to as "Grand Slam events."
But when we speak of THE Grand Slam, we mean only one thing: winning all four majors in the same year.
Impossible? Well, close to. Among the men, only two have achieved such a feat in singles: Don Budge (1938) and Rod Laver (1962 and 1969). The likes of Sampras and Borg or even Federer and Nadal (who painfully exited yesterday) have not won all four majors in the same year. Among the girls, only three have achieved the same: Maureen Connolly in 1953, Margaret Court in 1970 and Steffi Graf in 1988.
This means that, of the hundreds of millions of netters that have swung forehands since Wimbledon (the first major) started in 1877, only five individuals have won the singles Grand Slam.
A sixth one is about to be enshrined: Serena Jameka Williams.
So far in the United States Open, the fourth major this 2015 (the first three were the Australian Open, the French Open and Wimbledon), she is midway through the quest. Serena has won three matches (beating Diatchenko, Bertens and Mattek-Sands) and needs four more. Can she do it? I hope so.
I first got to see Serena 16 years ago. She was 17 then and was popularly known as "the younger sister of Venus." She was not tipped to win the 1999 US Open. Yet, Serena triumphed. My dad Bunny and I were inside the Arthur Ashe Stadium, the world's largest tennis arena, to witness her victory.
That was in New York. This week, they're in the same venue and, bombarded with the most extreme of pressures as she targets The Slam, all Babolat rackets and Nikon camera clicks are targeted on Serena.
Between that '99 first major trophy and today, Ms. Williams has amassed over $73 million in prize money (and much more in endorsements from Nike, Gatorade and Audemars Piguet). She owns 21 major titltes and, if she wins next Saturday, she'll equal Steffi Graf's 22 — and will just be two shy of the all-time record (Margaret Court) of 24.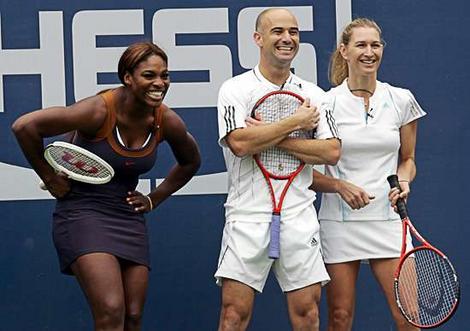 (Serena, Andre Agassi and Steffi Graf-Agassi/Reuters photo)
Reading through her list of accomplishments is like enumerating the record credentials of a Michael Jordan or Usain Bolt or Michael Phelps. Yes, she is in that league of sports greats.
Through the years, I've had the good fortune of having seen her play. At the Olympics in Beijing, my wife Jasmin and I watched her win the doubles gold with Venus. Last October during the WTA Championships, though she got clobbered 6-0, 6-2 in the preliminary round by Simona Halep, Serena bounced back and won in Singapore. And at the French Open last June, I saw her steely resolve (and muscles that are steel-like) as she overpowered all opposition to win in Paris.
(My encounters with Serena, though, pale in comparison to Stephanie Medalle, who, while watching the IPTL Tennis last Dec. in Manila, happened to be in a parlor one relaxing morning when in comes Serena. They chatted and took a photo. Nice one, Steph!)
What makes Serena great? Her mind. She walks confidently on court, willing her brain as she closes her eyes to envision winning the next point. She pumps her fist to boost her backbone. She screams to unleash that champion's spirit.
Her offensive mindset. Serena steps close to the baseline and hits the ball early. She doesn't stay back like a Wozniacki to run tennis marathons. With her muscular biceps and even more muscular legs, she overpowers the girls. (Plenty have proposed a "Battle of the Sexes" between her and a Top 100 male player.)
Her focus. While she goes on beach outings with Wozniacki (her best friend), once she steps inside that rectangle, nothing else matters.
Her athleticism. Her competitiveness. Finally, the single greatest shot in tennis: Her serve.
My wish? That SW aces that W.