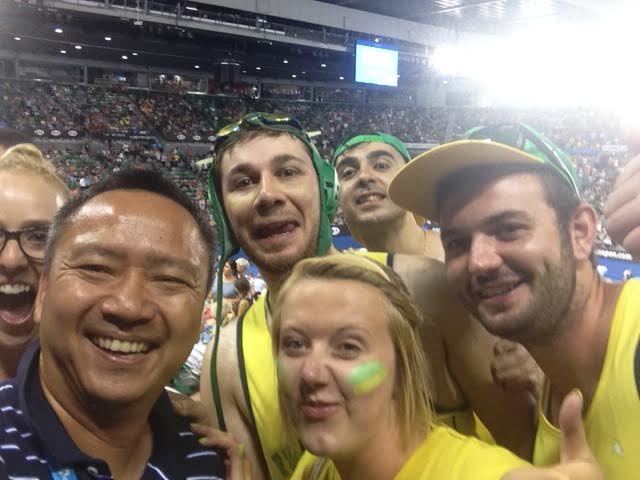 Tennis was introduced to him by his dad Doroteo Salazar and mom Zenaida. "I was 13 then," recalls Edwin, whose first backhands were hit at the court "in the Reclamation Area near the old White Gold." But it was at the Casino Español where, almost nightly, he would smother those Rafael Nadal-like topspin forehands.
Edwin Salazar is now Australian. A top engineer whose family owns the Salazar Colleges of Science And Institute of Technology (SCSIT) here in Cebu, Edwin has relocated to Australia since 2007.
He and his family reside in the City of Gold Coast, Queensland. "This is the equivalent of Boracay – a tourist destination," said Edwin, who works as Senior Drainage Asset Engineer for the city, leading a team of engineers managing the city's $4 billion flood mitigation and drainage assets. "All flooding concerns from residents, businesses, councilors & even the mayor come to my section," he said. "When not at my normal job, I assist (wife) Pipin run The Filipino Shop — a specialty shop that does international money remittance, sea and air cargo, beauty products and Filipino groceries." Edwin says that his three kids (Paolo, Urick & Wren) now call Australia as home while he, a Cebuano by heart, still considers Cebu City as "my home."
While Edwin has been in and out of Australia since 1991 (he studied his MBA in Bond Univ.), he has never watched the Australian Open, opting for the nearby Brisbane Open the past four years. A tennis fanatic who owns a wicked topspin forehand, Edwin finally made the trip to Melbourne this week.
"I was watching the Brisbane Open the other week so the expectation was building up," he said. "The things that you see, hear and experience builds up the atmosphere. As I was heading to the hotel from the airport, you see banners about the Aus Open along the streets. As you head to the venue, the City of Melbourne offers free tram, train and bus rides to the venue. You see posters and banners of products/services endorsed by Federer, Novak, Nadal and the fastest server in the world, who is Australian. The atmosphere is like the days leading to a Palarong Pambansa."
Engr. Salazar watched two days. "I wanted to experience the day the gates are opened. So at 9am on Opening Day, I was there with about 50 people. By 10am, the crowd at the gates swelled to 5 thousand. There was a record attendance of over 71,000 just on the first day. I watched for 14 hours — the longest I did in my life; from 10am to 12am." The next day, he did another marathon tennis sitting, watching from 12 noon until 10 p.m.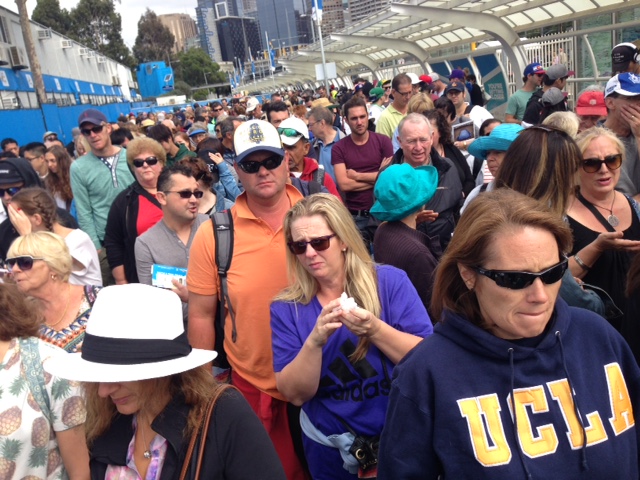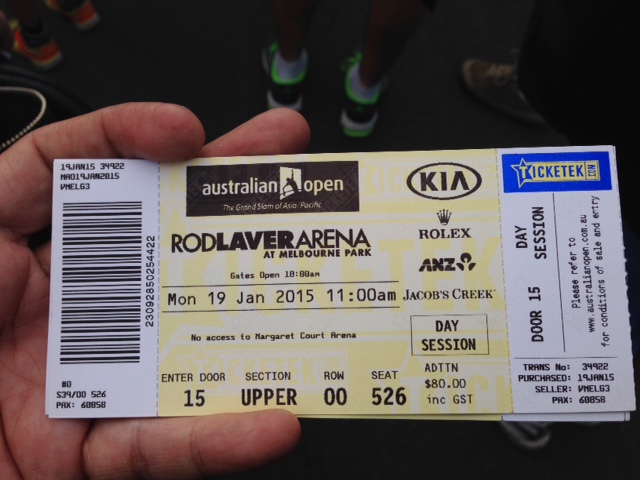 "I got overwhelmed seeing Federer, Nadal, Novak, Serena Williams, Kournikova, Sharapova, Wawrinka and many more," said Edwin. "In the outside show courts, I was seated beside the coaching team of Richard Gasquet while watching him play."
Rod Laver Arena is the tournament's center court. Inside, said Edwin, "the atmosphere is nice to experience especially if an Australian is playing. Lahi gyud ug local boy ang nag duwa. The fanatics, a group of 20-25, have a repertoire of cheers that can pump up the player and the crowd. This group creates the atmosphere. They cheer, dance, wear nationalistic costumes. See my selfie with them. This was experienced during Hewitt vs. Zhang. Also, the human wave. But have you seen the slow motion human wave? I experienced that in the Hewitt game."
Edwin longed to take an autograph with a top player. "While having my burger for lunch Tuesday noon, Yvonne Golangong, one of Australia's greats, was having a meeting in the next table. Yvonne was the only legend I could get close to."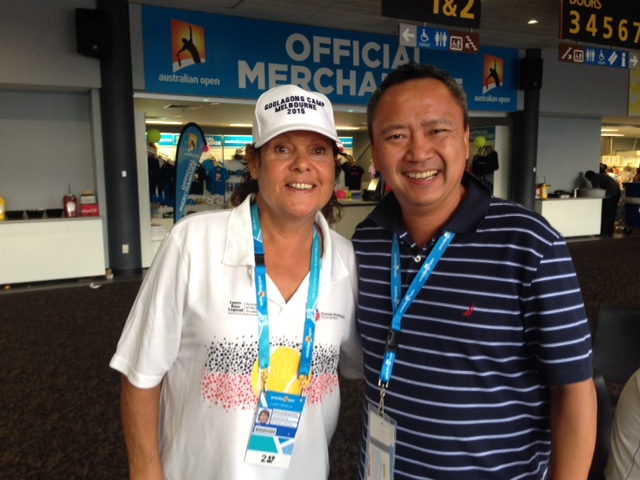 Forever a Bisaya, Edwin talked about food. "There were stalls all over serving pizza, burgers, fish and chips, and ice cream," he said. "Problem is I have a Filipino tongue. So I did not enjoy the food much. I would rather go for barbeque, tinola or sinugba."
Next month when his school, SCSIT, celebrates its Founders Day (57th, if I'm not mistaken), Edwin will come home to play tennis and to savor the food that not even Melbourne can offer.