I asked Dr. Peter Mancao: What passion does driving a vintage car bring? "When you drive these cars you are talking of the bare essentials of motoring," he answered. "There is no power steering, it's manual transmission, no a/c, the brakes… hmm, they stop but you have to put a little engine brake here and there and the ride is on the stiff side.. you literally feel the road."
This weekend, Dr. Mancao will join 25 other vintage car enthusiasts, driving from Cebu to Dumaguete to Bacolod and back, joining what is termed as the country's first-of-its-kind Mille Miglia-inspired touristic rally: the Tour de Cebu.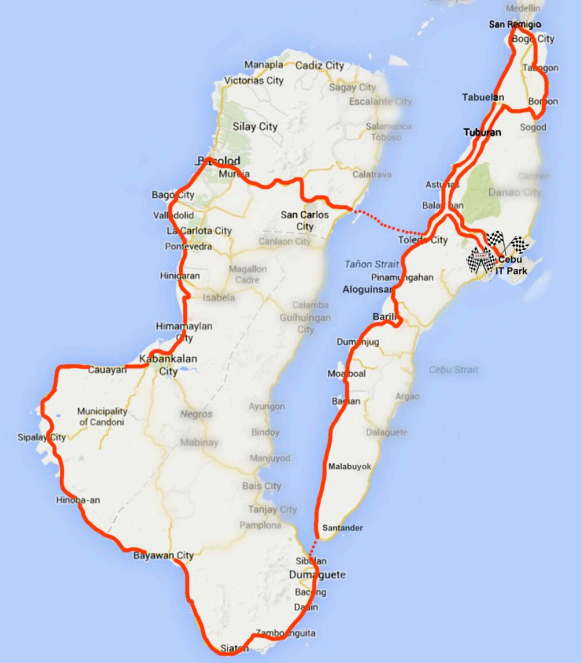 Peter explained that this is not all show-and-drive. "The ERUF is building a training center in Mandaue," he said. Extra funds generated will be donated to the organization. "ERUF is giving us its full support. One ambulance will be with us for the entire event," he said, adding that the ERUF team will be on full alert during the Cebu leg.
As for his personal reason for joining, "I've crossed out running a marathon in my bucket list. This ranks next to it," said Cebu's top heart surgeon, who'll be motoring his red 1970 Volkswagen Beetle Cabriolet (convertible). "Everything is stock in the car (not modified)," he added, "and I would be very happy if we can just finish the race!"
I, too, had first-hand experience last week. My brother Charlie, a car enthusiast just like my dad Bunny, lent me his toy for the night. I drove it home. A tear of sweat trickled down my face. The reason: his 1969 BMW 2002 had no aircon, no power steering, one window couldn't be opened and I had to press hard the brake. Maneuvering and parking required all of my muscular strength. This screaming loud orange BMW (with the occasional fireworks-like blast) will be driven by Charlie as he joins PACE this Friday.
Another participant is Chris Aldeguer. "I have always been a car fanatic since I was 18," he said. "Which is why being part of this is exciting for me personally."
Chris explains that this event is rare because it will bring many historical cars in one setting and, he said, "We will get to do what these cars were designed to do in the first place: Be Driven."
Iconic cars are often displayed in public during a car show. "This time, these will be driven and driven long. Therefore, the limits will be tested for both cars and drivers," said Chris, a top triathlete whose physical and mental prowess will be tested as he drives the fully-open '55 Porsche 550 Spyder.
"Any car enthusiast would appreciate the design and engineering of these vintage cars. It will be more exciting for the enthusiast to see them running for 1,000 kms. across the Visayas," said Chris. "I hope it will be exciting for the 42 towns and the 12 cities that we will be passing through. It works both ways. Historical cars in a rally will be witnessed by the locals and, at the same time, we will be witnessing these beautiful places."
Prior to the Friday start, the organizers (PACE) have invited two of the country's foremost automobile enthusiasts to give a lecture on "the wonders of owning, collecting, restoring as well as racing of vintage cars."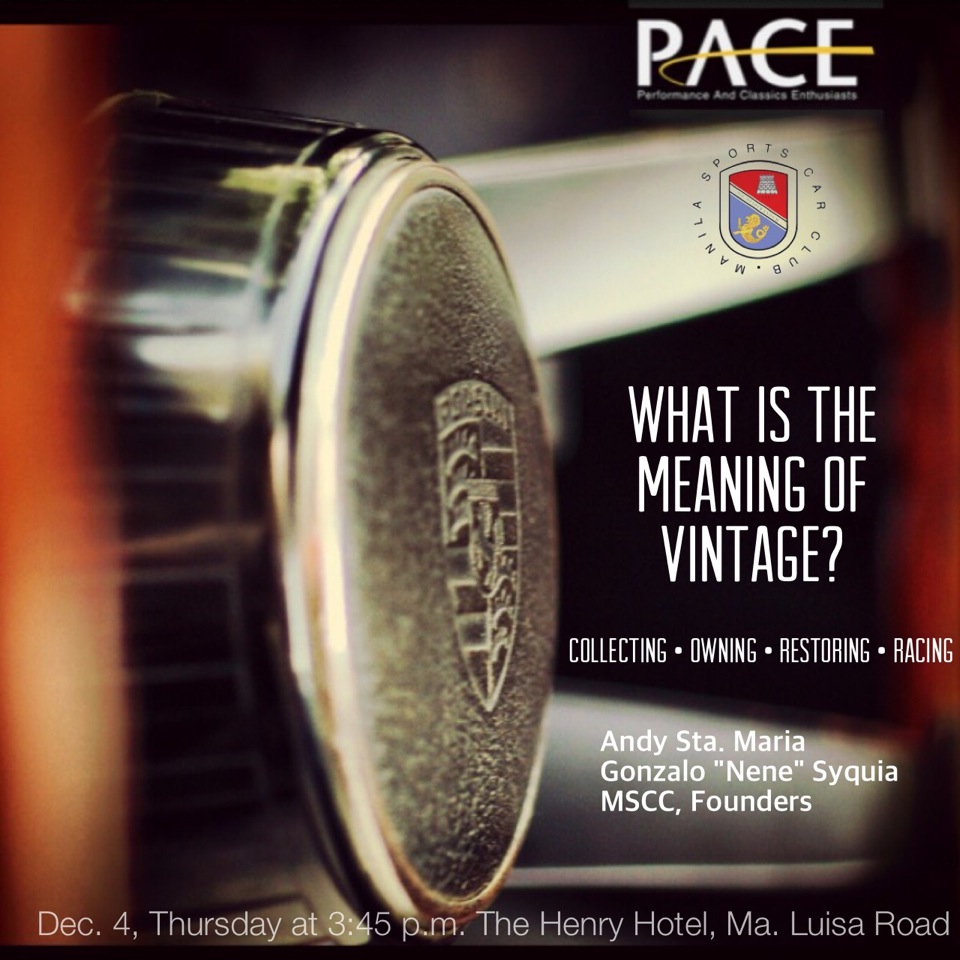 Andy Sta. Maria and Gonzalo "Nene" Syquia, the founders of the Manila Sports Car Club, will be here to give a talk entitled, "What is the Meaning of Vintage?" It's by-invitation only on Thursday at The Henry Hotel, and will be followed by the official race briefing.
Now, the question: Where can we see these cars, all 26 of them, prior to the call, "Gentlemen, start your engines!" The flag-off is at 7 a.m. this Friday at the Cebu I.T. Park. The cars are expected to depart at 8:30. "What's good is that you can go near the cars to have photos taken and you can talk to the drivers," said Chris. The finish: it's on Sunday at 4 p.m. at the Northwing of SM City Cebu.