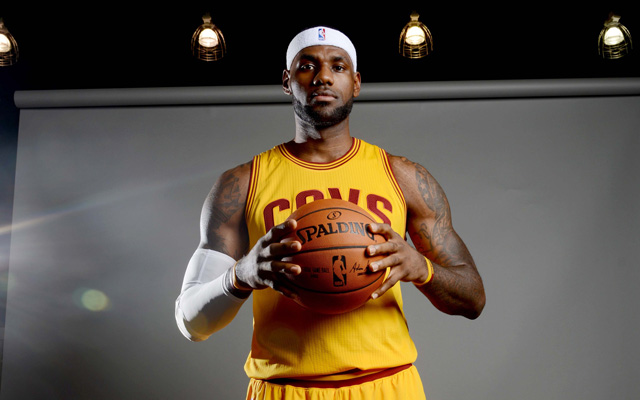 (USATSI)
The Cleveland Cavaliers lost their very first game this '14 season. Then, after winning the next one against Chicago, they proceeded to lose the next two. Four wins after that and with a commanding 5-3 scorecard, NBA fans worldwide proclaimed the Cavs as legitimate title contenders.
What happened next? They lost the next four clashes, against Denver, San Antonio, Washington and Toronto. By then, people panicked. Sporting an embarrassing 5-7 win-loss record, many criticized LeBron and Co. The man himself, No. 23, summarized their state in that Nov. 22 loss to the Toronto Raptors in one simple yet horrifying word: "Fragile."
Well, well. How time flies when you're having fun and winning. Those defeats and that "fragile" spirit seemed too long ago. After a November that zigzagged and twirled like a roller-coaster — similar to the ones found near Cleveland (in Ohio) that's considered as "the roller coaster capital of the world," Cedar Point — that up-and-down first month for the Cavs has been smooth of late.
The Cavs won their 8th straight yesterday. They now carry a 13-7 record, ranking fourth in the East (against 15 teams). The latest victim? The same battalion who defeated them in their last defeat, the Raptors — a previously 16-5 (scorecard) team that's No.1 in the Eastern Conference. How big was that? Well, how big was that shot, a looping missile from beyond the 3-point line, with 48 seconds left in the game and the score tied 99-all, LeBron James firing one rocket at the top of the key to rupture the Raptors?
That was big. That was LeBron, the man who grew up in this state as a kid and returned home as an adult to pacify and appease all those whom he crucified when he left. The same 6-foot-8, 250-lb. giant who, after that 3-pointer, said to the crowd, "That's what I came here for."
He amassed 35 points in 42 minutes, including a monstrous double-clutch reverse dunk after he stole the ball in the 2nd quarter. The night before: the same royal performance before royalty. With Prince William and his beauteous wife Kate sandwiched between Jay-Z and Beyonce at ringside, LBJ scorched the New Jersey Nets, leading his Cavs to a 110-88 victory.
Now on his 12th NBA season, LeBron is not only experienced as a champion, with his two NBA rings and four MVP crowns, but he's happiest back home.
"I know what LeBron is here for," said Cavs coach David Blatt, after the Raptors game. "And I know why he's here. Because he wants to be. So maybe that effort that you saw and maybe what he laid out there tonight for his team and for his fans sort of speaks to that."
Thus far in the season's 20 games — more like a First Quarter report for the Regular Season, which has 82 games — LeBron is averaging (per game) 24.8 points, 5.5 rebounds and 7.7 assists.
If he's Batman, his Robin (Kyrie Irving) is doing excellent work, averaging 20.8 PPG. If we add Kevin Love's 17.4 points per game, these three average 63 points — about 61 percent of Cleveland's average total (103.5) per outing.
"It's fun," said Irving. "It's fun to be playing the way we're playing right now, and it's fun to be part of it."
Is this a momentum shift? Will this continue until the playoffs? Has this team gelled?
Yes, yes, yes, but, no, let's not get too cocky in behalf of the Cavs as the NBA season has three more quarters left. And, lest we forget, in this winning streak, they did not face a single Western Conference team; and we know how bombarded that section is with the league's finest: Golden State, Memphis, Portland, Houston, LA (obviously, not the Lakers), San Antonio and Dallas — seven teams that have better win-loss scorecards than Cleveland.
But, for now, with the King performing in front of the Prince, with Kevin Love saying, "We just have a good energy about us right now," with eight straight smiles after four straight frowns, Cleveland is happy that their son is back home.