Have you seen the Nike advertisement? It's called "Together" and it aired the day when LeBron James and his Cleveland Cavaliers played their first game this season. I won't spoil the contents of this awe-inspiring black-and-white video but please, even if you're a Kobe fan and you wear Adidas, watch it on YouTube.
Patience. That's the key word for the Cavs. The hype of their inaugural Quicken Loans Arena game against the New York Knicks was too much to bear. Even for the Human Superman.
Remember when LeBron moved to the Miami Heat in 2010 and they were "assured" of an NBA crown in their first season, after teaming-up with Chris Bosh and Dwayne Wade? That team amassed a miserable 9-8 win-loss start. That's as poor — considering the hype — a beginning as was expected.
With last Thursday's opener, LeBron added to the frenzy when he declared the game, "Probably one of the biggest sporting events ever." He was exaggerating. Obviously, this was nowhere near the Olympics Opening or Game 7 of a Lakers-Boston final or the possible Pacman-Money fight.
Over-emotional and over-excited, the Cavs lost to the Knicks, 95-90. But more than the defeat (it's just one game out of the 82 that they'll play in regular season; 41 each at home and away), that first game loss was awkward and difficult.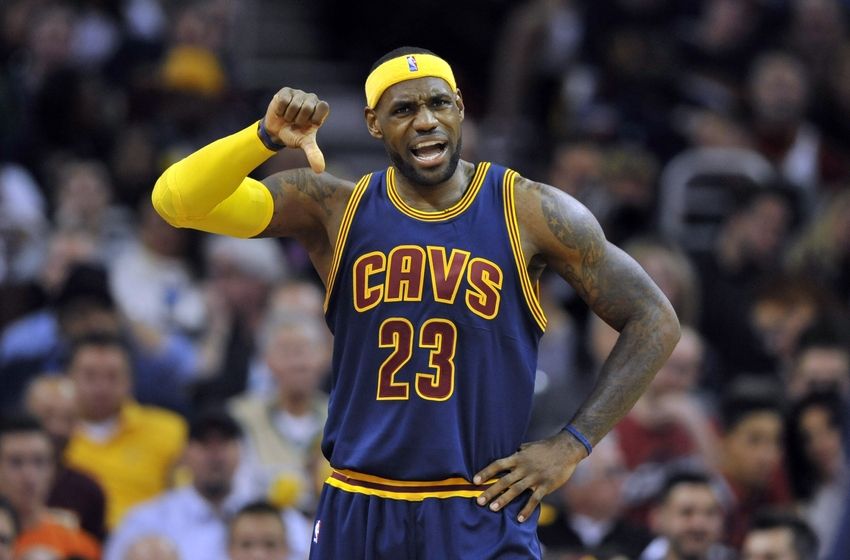 (David Richard/USA TODAY Sports)
I like what Cavs coach David Blatt said right after the disaster when he was asked if it was like a kick in the stomach. He said: "It was for me, for everybody — and that could be a good thing for all of us."
For LeBron himself, an analyst dubbed that Game 1 as his "4th-worst home game ever," counting the 507 home games that he's played. His distasteful numbers included missing his first 8-of-9 shots; he had a total 5-for-15 shooting and committed eight turnovers.
The good news? He has nowhere to go but better. "It was one game," said LeBron. "We have to learn from this. It's great to have a game like this, especially this early on."
Twenty four hours later when they landed in Chicago to play their upcoming Eastern Conference Finals rivals, the nightmare was erased; this time, with all the hysteria out of the way, LeBron played like the 4-time MVP that he is, scoring 36 points, including their first eight in OT.
Next up: a West Coast sojourn, starting with the Portland Trail Blazers this Wednesday morning (Phil. time).
What's clear with this move by LeBron called "Decision 2.0" is this: it's personal. More than the money and championships, he wanted to give back to the community that helped him grow. He hurt his fellow Ohio residents with the Miami transfer and, the good hearted man that he is, he wanted to make amends. "The roads, the buildings, the people," said LeBron, "they helped raised me."
In a USA Today Sports article entitled, "LeBron James' homecoming bigger than basketball," ace writer Nancy Armour narrates:
"Every athlete has a story of a community that helped him or her along the way, and every city has a favored athlete it considers one of its own. For James and northeast Ohio, however, it's one in the same, the two as tightly intertwined as family.
"The people of Akron and Cleveland have been in the bleachers since James was not much older than his own sons are now, watching with pride as he grew and developed the skills that have made him one of the greatest players of all time. In return, they gave shelter and support to the boy with the young, single mother, making sure he never went astray and, as the spotlight grew, protecting him from those who didn't have his best interests at heart."
That's why LeBron returned. To pay back. To say thanks. Strong-willed and bull-headed, LeBron is, at the same time, an emotional being who cares for and sympathizes with his neighbors.
Here's my conclusion: This one is for keeps. I can't imagine LeBron having to move out again and leave home. This is it. He's here to stay. And the Clevelanders can't be happier welcoming home their own son — even if he messes up in that first game.