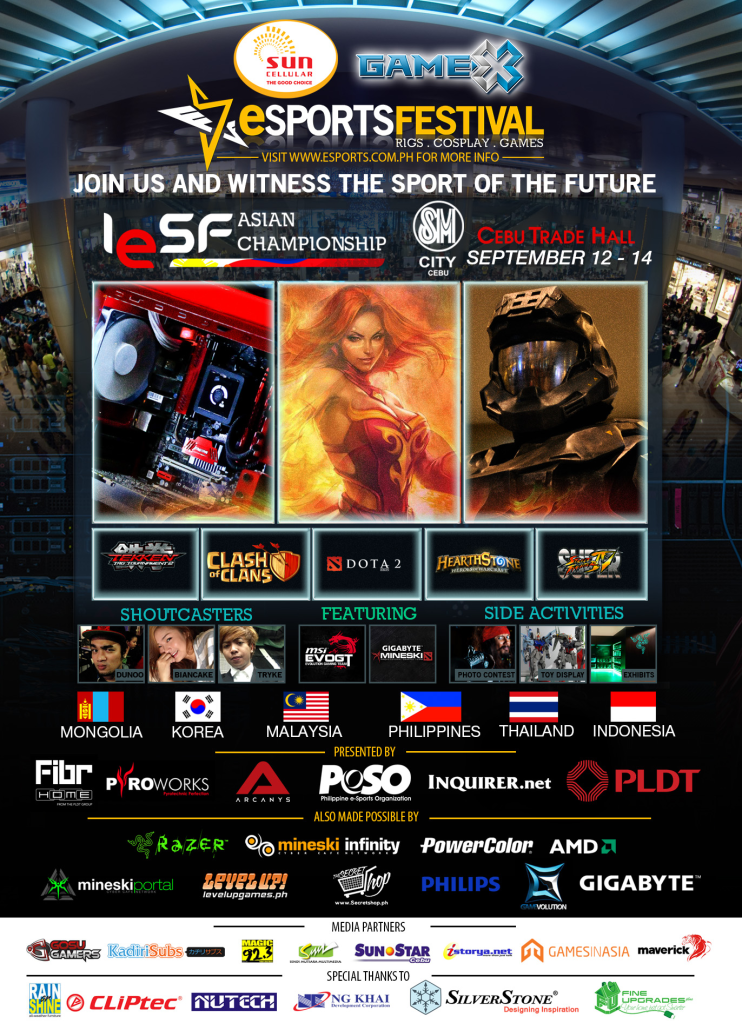 I visited SM City Cebu last Friday. Upon arrival, I went straight to witness an event that had intrigued me. It's called "eSports." Does the term stand for "Extreme Sports" or "Endurance Sports" or "Exciting Sports?"
Yes, it's all of the above. It's those words transformed into one name that's spelled… Electronic Sports.
Inside the Cebu Trade Hall of SM, I met the organizer himself, my good friend Brian Lim. Everybody knows Brian Lim as a sportsman-businessman. His family owns the giant Rose Pharmacy and he's CEO of Salon de Rose and Pyroworks. With sports, he's a multi-athlete: He's completed the IM70.3 and Xterra triathlons; next month, he'll travel to Hawaii to join the Xterra World Championships. But last weekend, Brian sported a different role: As chairman of PESO — that's Philippine e-Sports Organization.
"eSports is the modern-day equivalent of Chess," said the always-smiling Lim, the organizer of last weekend's event dubbed "eSports Festival: Rigs. Cosplay. Games."
"It's a mind sport but without any physical boundaries as it can be played across the internet and across different genres or game types," he added.
My younger brother Michael explained to me that the most popular game is Dota 2. Brian adds, "Dota 2 is similar to basketball which is a 5-on-5 game but highly strategic in which players go through a draft phase in the beginning to pick and ban certain characters to best pit themselves against the opposing teams. Games can last anywhere between 15 mins. to a little over an hour."
I must admit: I'm not a gamer, although I did enjoy the Space Invaders and Pac-Man games by Atari (this reveals my age). But here's what I know: Tens of millions of people worldwide today engage in e-sports. Here in the Phils., the organization PESO is helping put us in the international gaming map.
With the leadership of Brian and PESO's executive director Tryke Gutierrez, whom I also met last weekend, their Vision is clear: For the "Phils. to excel in eSports internationally by 2015… where we are not limited by height, weight or size but rather the competitiveness of our mind and the Filipino fighting Spirit."
The event at SM helped advance these goals. "We had over 500 participants," said Brian. "We held qualifiers in Luzon, Visayas and Mindanao; the champion teams flew in from each region."
Sven Macoy Schmid, an avid gamer and eSports fan, wrote this in his blog (svenmacoyschmid.com): "I only attended the 3rd and last day to watch the Championship games but I came without much expectations since I thought that the eSports scene was on a decline. But as soon as I entered the trade hall I was stunned by how many spectators the event drew and contrary to what I thought the eSports scene was actually getting bigger! As usual there was the cosplay event, the rig competition and the beautiful creatures called 'booth babes.'"
Sven added: "As for the games, there was Hearthstone, Street Fighter 4, Tekken Tag Tournament 2, Star Craft 2 and the much awaited Dota 2. Dota 2 was the main event once again with participants from Thailand, Malaysia, Indonesia, Mongolia, South Korea, Manila and our Local team Arcanys. Arcanys dominated Group B having a flawless 3-0 record while MVP from South Korea took 2nd place. In the other group The Prime (Indonesia) and MSI-EvoGT (Manila) upset one of the favorites coming into this tournament Mith.Trust (Thailand) and Orange Esports (Malaysia) both ending up with a score of 2-1."
The highlight was Cebu-based team's Arcany's beating the heavily-favored team (and eventual champion) MVP Phoenix during the group stages. "The game is akin to a high level chess game where they sacrificed their queen in order to produce a check mate eight mins. into the game," said Brian, "beautifully outwitting their Korean opponents who made it to 2nd place in the South East Asian qualifiers for the TI4 or the international — a whopping $10,000,000 prize pool tournament."
eSport? Electrifying Sport.