It's been over a month since the Fifa World Cup ended in Rio de Janeiro.
Todd Entner is a friend whom I've known since our late 1980s tennis-playing days at the Cebu Tennis Club. He's American but was born in Manila and lived here for 13 years. Now back in the U.S., he visited Brasil last month with his son Josiah. It wasn't Todd's first WC watch; he's been to the last four WC Finals. Plus, he's watched Wimbledon and the U.S. Open and — take this, sports fans — he's been to the last five Olympics! When Jasmin and I visited Beijing in 2008, guess who hosted us for China's first Games? Mr. Entner.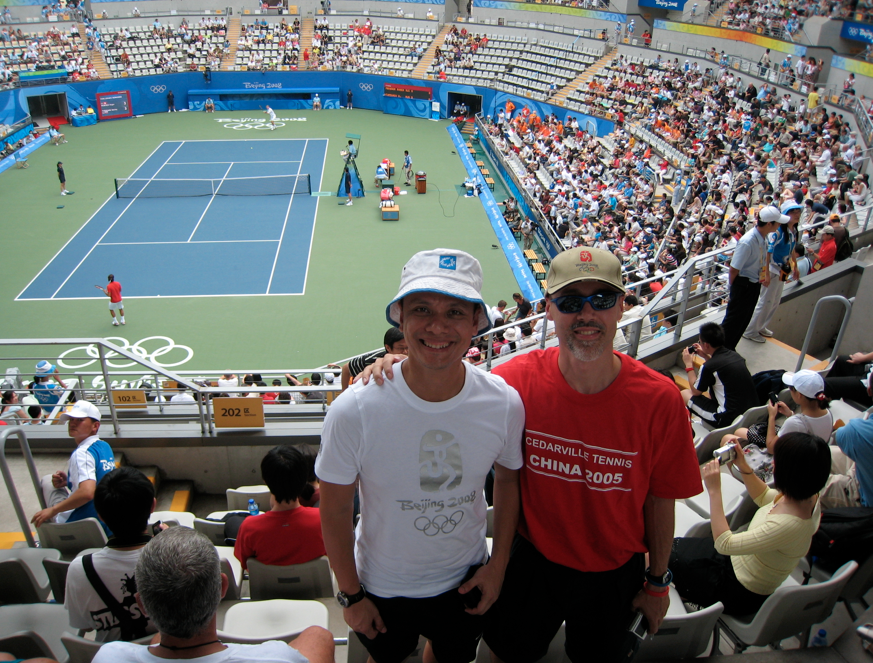 Here's Todd's World Cup review:
"My first World Cup experience was in 1990, listening to the Final by radio in Malaybalay, Bukidnon, holding the antenna to get better reception as Germany defeated Maradona for the trophy. In 1994 in America during college, I watched on TV as the hosts USA narrowly lost to Brasil in the 2nd round. France in 1998 was also just a TV spectacle for me, but in 2002 in South Korea I was able to see several games in person, followed by another experience in Germany four years later.
"After that I was hooked, and so in 2010 my (then 7-year-old) son Josiah and I flew down to South Africa for the first major event on the continent. This year we knew Brasil was a must-see, so we used frequent flier miles to fly down for 2 weeks. Landing in Sao Paulo, we took buses around the country, visiting 4 cities and seeing 3 games. A massive country (5th largest in the world in area and population), Brasil is a beautiful land, reminding us of a mix of the Philippines and America – rolling mountains covered with jungle, lovely beaches, and good highways.
"A largely Christian people, Brasilians are very hospitable (we never needed to spend a night in a hotel), generous and friendly – some of the local fans even gave 'free hugs' – and the food is fantastic – flame-roasted barbecue skewers loaded with chicken and beef. Though it was winter, the weather was excellent, mostly sunny and cool, with scattered rain and sunshine. The infamous crime does exist (my camera and our Australian friend's wallet were stolen), the joy of the crowds and the great competition made up for the difficulties.
"The games were exciting, and we all agreed it has been the best WC ever, in terms of history (the first Cup in South America since 1950) and excitement (goals scored, comebacks, upsets, and goal-keeping). The highlight was seeing Messi in person leading his team to victory over the Swiss."
Top 5 blessings in Brasil: "1) Wonderful hospitality from our brothers and sisters – we stayed with friends and never needed a hotel, enjoying great fellowship,  food and culture. 2) Safety in travel (flying from Dayton to Chicago to Toronto to Sao Paulo) and going around by bus, subway, train, van and lots of walking. 3) Wonderful weather – when we arrived the forecast was for 100% probability of rain – miraculously, it dropped to zero and stayed dry! 4) Free flight tickets using our frequent flier miles, and a free Brasil visa. Our colleagues also made it there okay, despite cancelled flights and late visas. 5) Many ministry contacts, with well over a million tracts and 400 DVDs given out to fans from over 30 countries."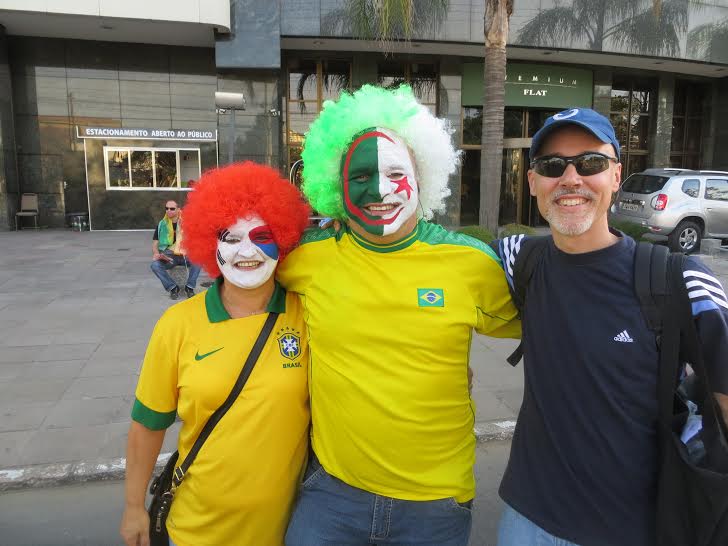 Top 5 burdens in Brasil: "1) The country is vast, so travel was exhausting – we spent 84 hours on buses going between the 4 cities of Porto Alegre, Curitiba, Sao Paul and Rio. 2) Always on the go, we had few times to lay our heads, literally – only 5 nights in a bed, 2 on planes, one in a car, and 5 overnights on long-distance buses. 3) Brazilian food is fantastic – alas, so busy, we had but 4 real meals, the rest were snacking on cereal, snacks and sandwiches – but the meals were great! 4) The notorious crime is a sad reality – our new camera lasted less than half a day before being stolen on the subway, and Matt got his wallet pick-pocketed. 5) Since it was winter there, germs and cold and rainy weather led to virus bugs."
Todd's next stop? Back to Rio for the 2016 Olympics.