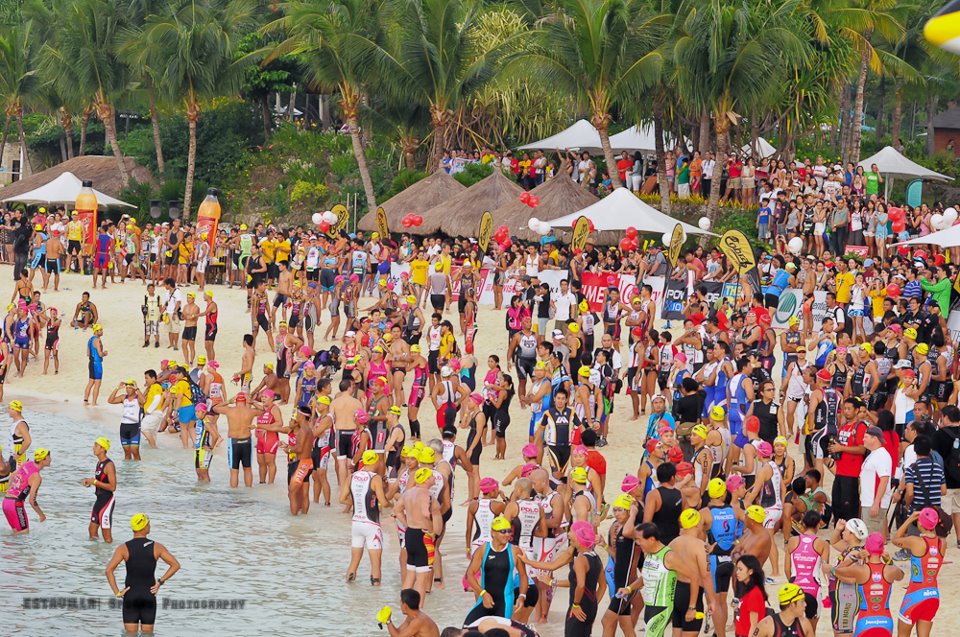 (All photos from triathlonwarrior.blogspot.com)
Question: Would you pay $325 to suffer nonstop for seven to eight hours? That's what the triathletes did last Sunday.
Imagine swimming for 50 minutes the open-sea waters spanning 1.9 kms. Then, after maneuvering past the jellyfish and kicks of your fellow swimmers attempting to dislodge your goggles, you sprint towards your P254,000 carbon-fiber bicycle.
You pedal, amidst the sun that will cook your skin from 7:30 to 11 a.m., climbing the Fernan Bridge. You soon descend into darkness inside the abyss called the Tunnel, emerging to confront the buffering yet unseen crosswinds at the SRP — all of 90 kms., the distance from the Capitol to Bogo. Finally, returning back to where you started at the seaside property of Megaworld, you change from cleats to running shoes — and you stare at your watch: it's 11 a.m.
Time for a half-marathon! Crazy? No. How about lunatic. At first, the run traverses along shaded portions of Punta Engaño. Good. But wait until you reach Amisa and the winding, open air subdivision where you have nowhere to hide for shade. You walk — but you really want to crawl. The tough part: the run isn't a point-to-point, from A-to-B route. It's two loops. Meaning, after circling one entire lap, it's not over yet; you've got to do it all over again. And it's past 1 p.m.!
This, to the non-Cobra Energy Drink Ironman 70.3 participant, is a snapshot of the suffering and difficulty of finishing all 113 kms. of last Sunday's race. And you pay a fee of nearly P15,000 (in December for an event that's in August) to willingly absorb this affliction.
Yet, thousands banded together in this modern-day version of hazing, all for the personal satisfaction of saying, Yes, I've done it!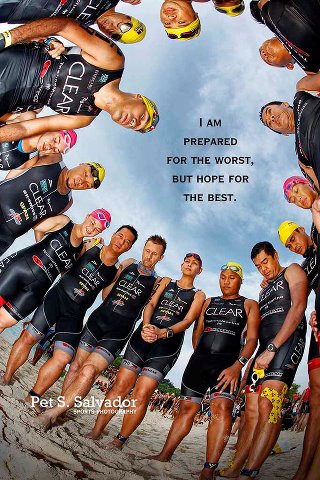 Plenty, prior to August 3, were obese and elephantine; many were sedentary and slothful. Not anymore. That potbelly evaporated into a six-pack. What a transformation; not only of the physical but of the entire mind-and-body.
Why? Because, said Bob Dylan, "Behind every beautiful thing, there's some kind of pain." Because, reads a famous saying, "Without pain, how could we know joy?" For what is life unless we pass through aches and burns and, after overcoming that, emerge to raise one's arms up to God at the finish line?
The Ironman is about pain management. During training. Facing the sun. Running with cramps. Battling the wind. Fixing a flat tire. Crouching low on the bike for 220 back-breaking minutes. It's Winston Churchill's dictum that says, "If you're going through hell, keep going."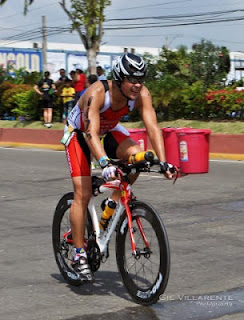 It's not about the eradication of pain — because that's impossible, even for the Canadian named Brent McMahon who won in three hours and 59 minutes. It's about absorbing the pain and transforming it into that unexplainable feeling of ecstasy that can only be described by one person: you yourself.
Nobody can define this "misery = jubilation" formula but the person who's actually out there, fighting for his or her quest to cross that finish line.
It's like Atty. Jess Garcia, minutes after crossing the finish line, telling me, "I'll never do this again!" Yet, with his wife Leslie beside him, he said those words with an overjoyed tone.
You know who I applaud the most? The IronWomen. Yes, the ladies who braved the same distance of this event named after 'Man. Comprising only 15 percent of all participants, now the women can claim and say, "We don't only iron (clothes) well, we can also do the Ironman!" A thunderous clap for all finishers; but a standing ovation for all the lady participants.
The great Helen Keller, who couldn't see or hear but became one of humankind's most inspiring figures, once said: "Character cannot be developed in ease and quiet. Only through experience of trial and suffering can the soul be strengthened, ambition inspired, and success achieved."