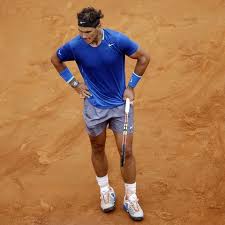 This is the problem when you're No. 1. When you've won 90 percent of your clay-court matches. When you've triumphed in every French Open, except one, from 2005 to 2013. This is the problem when you're Rafael Nadal. His middle initial is P. That stands for Perfect. (It's actually "Parera.") You can't make a mistake. You. Can't. Lose. A. Single. Match. Because while your socks get brown-colored-dirty, when you're Rafa you're supposed to be without blemish. You are Spain's Superman.
Rafa has been invincible. At the Barcelona Open, he won eight titles. Same in Monte Carlo, eight trophies. In Rome, it's seven championships. These are records that even Bjorn Borg couldn't achieve; even Thomas Muster couldn't muster. I'm unaware of any other athlete who's been as dominant as Rafa has been on clay.
But remember the cliche, "All good things come to an end?" Is this the End of Rafa? No, he's not retiring after the French Open ends on June 8. But is he having difficulty dominating like before? Absolutely. This 2014 has been his most challenging year since he burst into the scene as a 19-year-old to win the French Open.
He turns 28 this June 3. "At this age, (Bjorn) Borg was doing other things," Rafa said last week. "It's not possible to win for 10 years with easy scores and easy matches."
Three weeks ago, Rafa lost to Nicholas Almagro. The week before, he succumbed to the topspin of David Ferrer in Monte Carlo. Last January, when he was expected to romp to his 14th Grand Slam title, he melted like Swiss cheese to Stan Wawrinka. Despite an ATP-leading 34 wins on the tour this year, he's already lost six times. Not bad. But not Rafa-good.
In his titanic rivalry against Novak Djokovic, they seem to have these see-saw moments when one sweeps through several victories before losing a quartet of matches. Thus far, Nadal has lost his last four encounters with Djokovic. In the game of the mind, this is bad for Rafa. And so was this statistic in their final yesterday: Nadal had 15 winners/27 unforced errors while Djokovic had 46 winners/30 unforced errors.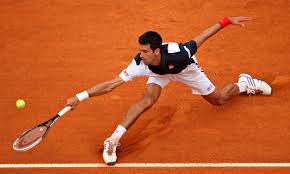 (Photo: Julian Finney/Getty Images)
Which brings us to Roland Garros, the official name of the French Open. It starts this Sunday and will run for two weeks. It's one of tennis' four majors and it's the only one played on clay.
What's clay? It's like the surface of most of our courts here — Baseline, Alta Vista, Cebu Country Club. Among the various surfaces (hard-courts, grass in Wimbledon, indoor carpet), it's the slowest. Why? Because when the ball touches the ground, it doesn't skim on a slippery surface like cement; on clay, the ball settles and plunges, often taking some soil to intertwine with the fluffy yellow ball.
I've been inside Roland Garros. This was in 2001. With the family of Jack Mendez, my beloved father-in-law, we opened the gates that September and roamed the site where Rene Lacoste was victorious three times. I touched the clay in Paris. It's thick and red — slower than our "anapog" courts here. (Next week to commemorate the Paris major, I'd love to play in the CitiGreen indoor courts in Punta Princesa, Cebu — they're red clay!)
Back to Mr. Nadal, is he most vulnerable this year? Yes. The only clay-court event that he won prior to Paris was in Madrid. And he should have lost that. Trailing Kei Nishikori in the final, it was only after the Japanese got injured that the Spaniard surged.
Also, if you recall their semi-final meeting last year, Djokovic led Nadal, 4-1, in the fifth set before that infamous net-touching incident by Novak. The Serb ended up losing to the Spaniard, 9-7, in the fifth.
Next week? Wow. They can only meet in the final and it will be a colossal finale if the world's top two face-off.
Still, Rafa is Rafa. He's won 59 of 60 matches in Roland Garros, translating to a 98.3 winning percentage. He's the King of France from Spain. The memories, the triumphs, the surroundings, the roaring French cheers, the green backdrop with the "BNP" initials — all these will energize the lefty. Vamos.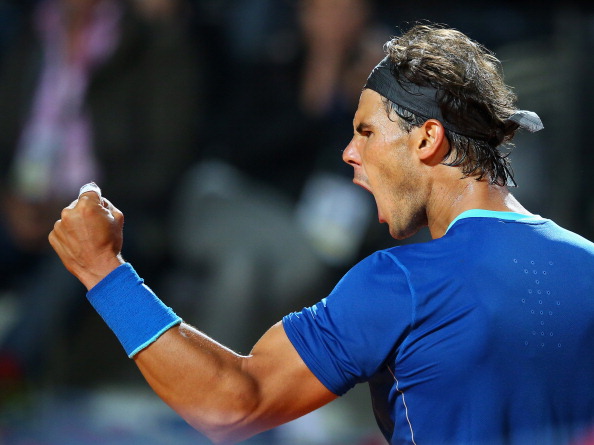 (Photo: Julian Finney/Getty Images)