He was born in Cebu Country Club. His parents, Charlie and Lily, allowed him to call the 52-hectare, 1928-founded Banilad garden as his playground. He started swinging putts by the age of seven. When he was 13, he scored his first ace — a hole-in-one in CCC's 15th hole. Putt after putt, divot after divot, he improved, leading his team to PAL Interclub trophies, winning junior championships, setting records and being called "the best junior talent CCC has produced."
LJ Go turns 19 in February 2. He's now in college, enjoying a golf scholarship at the prestigious 157-year-old institution called the Seton Hall University in New Jersey.
Two weeks ago, LJ accomplished a feat that every jungolfer dreams of accomplishing: He won the 2014 Philippine Amateur Open. Against a field of international stars, he scored rounds of 72, 72, 71 and 76 to win by a whopping 11-stroke margin, the largest in tournament history.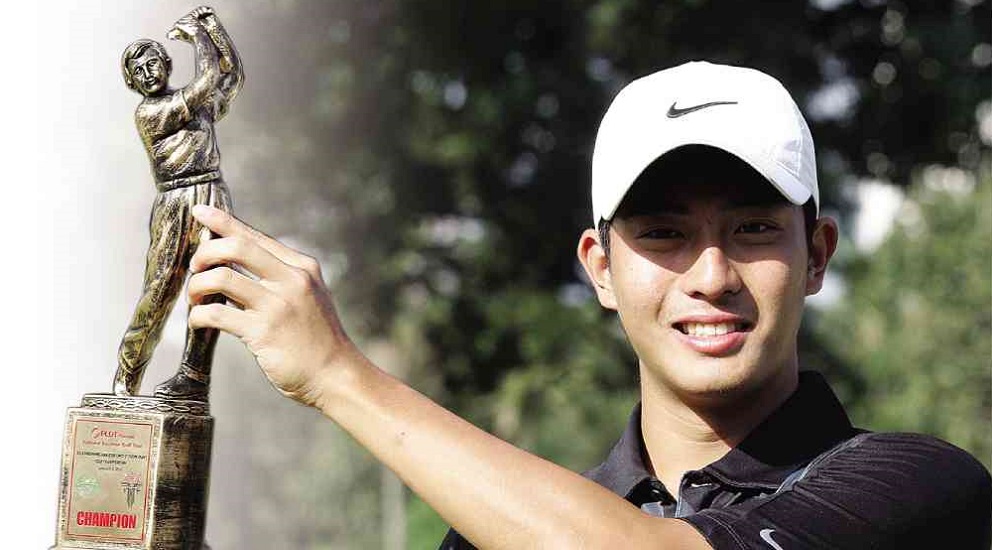 (Photo from Gilbert Mercado)
Now back in Seton Hall after his recent trip here, I interviewed LJ. Here's our Philippine ace…
VICTORY. "Winning the Philippine Amateur felt great because it is the biggest amateur tournament in the Philippines and I got to win it with a great field. This is my biggest win. I didn't know I won by a record margin until Jovi (Neri) said so. I didn't expect the win. I came in with a different mindset. I said to myself, 'No expectations.' The only thing I placed in my mind was not to make a double the whole tournament. I only had one and that was good. I knew that if I played well on the 3rd day, winning the tournament would come true. I had a 7 stroke lead going to the last day and I wanted to start the day well and avoid trouble and I was able to do that."
PREPARATION. "I wasn't able to play a lot of golf here in New Jersey because the weather is cold. I was hitting balls into a net for awhile. When I got to Cebu I played everyday so I could prepare. I focused on my short game because Wack Wack was a difficult course and the short game would be the key. My practice paid off. My short game was unbelievable that week and I was able to hole out a lot of chip shots."
COLLEGE. "Life in the States is harder than at home. You have to do everything on your own. But that helps you become independent. It prepares you for the future. During the week, I have class in the morning and we practice golf or workout in the afternoons. We also run before our class starts three times a week. The weekends, we are free. That's the time I catch up on school work and rest a bit or go out and play a round of golf.
"Playing College golf helped me mature as a golfer. My course management improved significantly. I don't force a lot of shots now. I calculate everything more. I take a bit more time. Caddying myself made me realize that I can't play too fast or I will make stupid mistakes. I still play fast but those extra 10 seconds thinking before you hit helps."
FELLOW PINOY. "The only Filipino I know in school is the President." (The president of Seton Hall Univ., which has nearly 10,000 students, is Dr. A. Gabriel Esteban. Two years ago, he was installed as the first-ever Asian-American president of the Catholic university. He also became the first-ever Fil-Am to be president of a major U.S. university. For LJ Go to have the university president as his fellow Pinoy gives him good company.)
TIGER. "My favorite player is Tiger Woods. He makes the game very lively. I love watching highlights of him winning because the crowd gets energized."
GOALS. "My goal this year is to be able to play in the US Amateur, Asian Amateur and hopefully my team could win the Big East Conference. I want to get stronger to be able to hit the ball farther. With my coach Andrew Ong, I want to perfect my golf swing so I could strike the ball consistently. My long term goal is to be a Professional golfer and hopefully be the first Filipino to play in the PGA Tour."