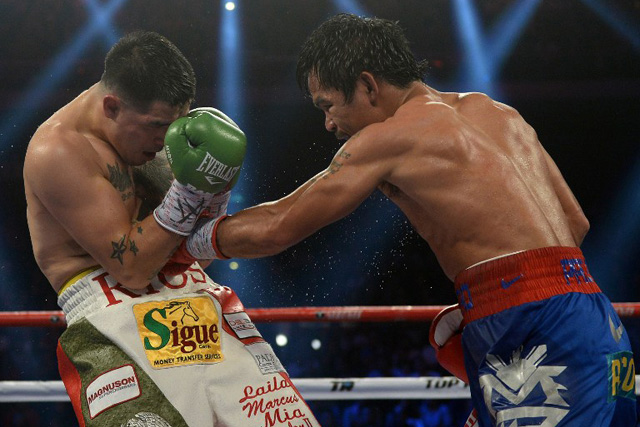 (AFP)
MACAU — Seated on Row 11 or about 50 feet away, our eyes witnessed what the entire world witnessed: Manny Pacquiao's mission was not to win by knockout but simply to win. After two losses with the last one coming via a nightmarish KO, he didn't have to kill Brandon Rios; he simply had to kill him softly.
"I backed-off a little bit," Manny admitted, referring to that 12th round when he could have attacked for a Ricky Hatton-like demolition job. But, no; he was cautious. "I don't want to be careless. I had to be careful." These were his exact words when we listened to him in person during the post-fight interview at The Venetian Ballroom. "Boxing," he added, "is not about killing each other."
God-fearing. Reformed. Away from his old and evil ways. Compassionate and now a truthful family man and renewed Christian, Manny is the same devastating Mike Tyson-type aggressor but no longer the heartless and savage animal who bloodied Cotto and brutalized Margarito.
COTAI ARENA. Yesterday, we arrived inside the Cotai Arena at 8 a.m. to listen to the ring announcer mention the name "Harmonito de la Torre." Hailing from Gen. Santos City, we spent time with our fellow Pinoy last Sunday. During our buffet lunch together (less than 24 hours prior to his fight), Harmonito was so confident that he gobbled-up a plateful of food, including chocolate cate. No worries; yesterday, he feasted on opponent Jason Butar-Butar in impressive fashion.
From 8 a.m. until nearly 2 p.m., we took our positions inside the Cotai Arena. There were a total of nine undercard bouts; apart from De La Torre, the super welterweight victory also went to another Pinoy, Dan Nazareno.
One more impressive fighter was Rex Tso. He's the top boxer of Hong Kong and he's managed/trained by Aljoe Jaro (who hails from, as his family name explains, Jaro in Iloilo). Aljoe's assistant is also Bisaya, the former boxer Dong Mahinay.
What's the experience like being part of the biggest boxing event of Asia? It's loud. It's Las Vegas implanted in Macau. It's theatrical. It's entertainment.
Prior to Manny and Bam-Bam climbing the ring, lots of action (possibly not broadcasted on TV) was shown, including the Cotai dancers, about a dozen of them clad in sexy red and blue two-piece outfits (and wearing boxing gloves), dancing The Harlem Shake.
Erap danced, too. Ha-ha. Not, not on stage. But, from where we sat, I saw him enter the VIP entrance where he was escorted to the front pew. David Beckham, as you saw on TV, watched the bout. While Paris Hilton and Apl.de.Ap collected plenty of applause when Michael Buffer mentioned their names, it was Beckham who drew an almost Pacquiao-like praise. This is how much China loves football. (Here in The Venetian, there's a giant store of Beckham's former team, Manchester United.)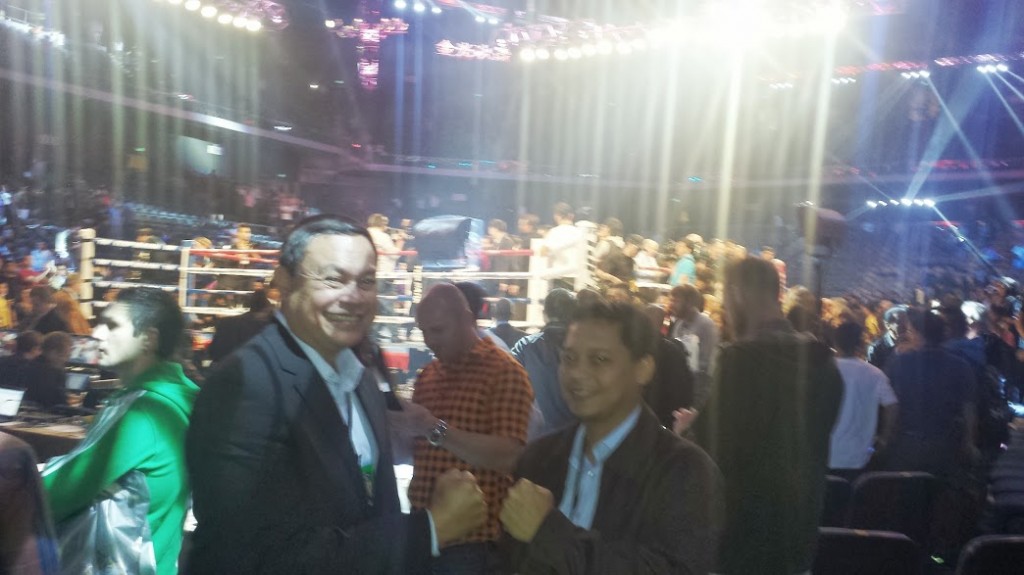 Bunny Pages and Jingo Quijano
CROWD. The spectators inside the coliseum — plenty of Filipinos and many hailing from Hong Kong and mainland China — were 90+ percent pro-Manny. Each time the giant LED screens flashed Rios' face, the crowd booed. When Manny was shown — often flashing his charismatic smile — we shouted the opposite: MAN-NY! MAN-NY! MANY-NY!
This chant was repeated in each round. When the Filipino congressman would pummel the American boxer, we'd echo his first name. I've watched a few grand sporting moments — the Beijing Olympics and US Open tennis, to name two — but nothing compares to the electrifying atmosphere that we experienced yesterday noon. It's because Manny, like us, is Pinoy. It's because we're in this continent/venue surrounded by fellow Asians. It's because he could be a "tsamba" (Marquez-like) punch away from retiring. It's hard to print on paper but the energy and hearts of the Filipino majority (among the 13,200 in attendance) seemed to empower Manny and overpower Brandon.
Overpowered? Absolutely. Rios was a mismatch. The only time he scored punches was when they clinched and he repeatedly (and in an almost-cheating way) punched away. Other than that, he wasn't Bam Bam — he was a (Punching) Bag Bag.