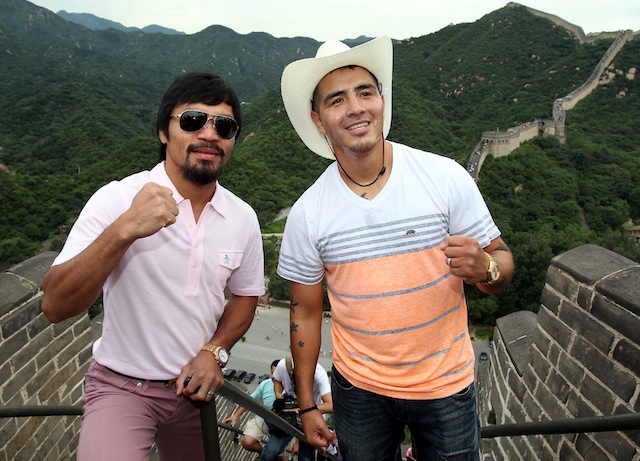 (Photos by Chris Farina/Top Rank)
I'm excited. Three Sunday mornings from today, I hope to be inside CotaiArena of The Venetian Macao wearing two sets of hats: One is of a neutral, unbiased, scribble-what-I-see journalist covering Asia's biggest boxing Sunday; the other is of a Filipino, just like you and our 90 million other kababayans, heart-pounding and forever prayerful that our fellow Pinoy will emerge with both arms pointed to the sky, thankful to God for a victory that's taken 24 months long.
Yes, it's been too long — two long years — since Manny Pacquiao savored victory. That was against Juan Manuel Marquez. Since that Nov. 12, 2011 moment, he's lost and lost. Against Timothy Bradley. And, in their 4th installment, against J.M. Marquez.
When Pacquiao climbs the ring this Nov. 24 against Brandon Rios, it will be nearly one full year since he last fought — and that last memory, of him lying as if lifeless on the floor, was nightmarish.
I hate saying this but this might be Manny's last fight. Boxing is as unpredictable as an aftershock. Unlike Macau's casino owners — who, at the end of each month, are always guaranteed millions — boxing offers no guarantees. There's extra pressure for Manny in this fight. It's a must-win. Even Freddie Roach said so himself: a third straight defeat will put an end to the eight-division-titlist's career.
MP. Will this stand for… Macau Pildi? We hope not. We pray that MP will collect his 55th win.
Together with my compatriot on this page — Atty. Froilan "Jingo" Quijano — I'll be in Macau to witness live the battle.
What's unique about this world championshp fight is that it's not in the U.S. It's always been in Las Vegas. The mega-casinos are there. Bettors proliferate and money exchanges hands as quick as Manny's hands.
Macau is the Las Vegas of the Far East. The only venue allowed by China to exist as a gambling haven, Macau is actally much, much richer than Vegas; it generates five times the gambling revenue. Last year, Macau's gaming receipts exceeded $38 billion. Shockingly-huge but maybe not that shocking: Let's not forget that China has a population of 1.35 billion.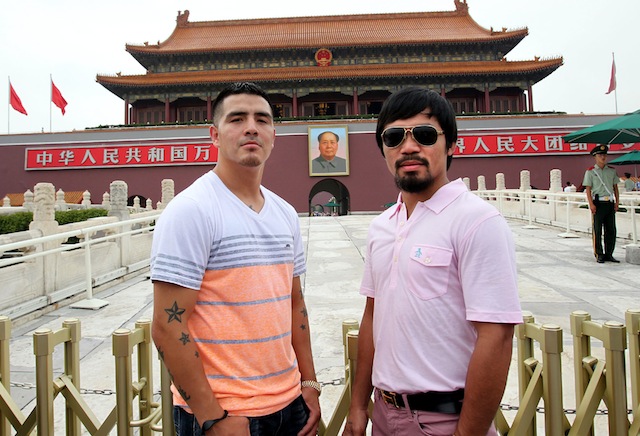 There are 40 casinos at work 24/7 in Macau. For a tiny Chinese peninsula that has an area of only 30 sq. kms., that's plenty of slot machines. And you want to know how much the Chinese spend when they visit Macau? On average, those who trek to Las Vegas spend $156 per person on gambling; in Macau… it's $1,354.
The biggest question in gambling is this: Come Nov. 24, what type of Manny Pacquiao will we see? He hasn't fought in a year. He's lost back-to-back. Will he be less aggressive? More cautious? Will the Mike Tyson-like, always-combative Pacman be timid? Has he lost his super-powers?
Manny is turning 35 years old on Dec. 17. Professionally, he's fought 61 times. Speaking of (old) age, if there's one person Manny should emulate it's Money. The undefeated Floyd Mayweather, Jr. is the undisputed fittest athlete on earth. Remember his bout against Saul Alvarez, when he toyed with the Mexican and improved his number to 45-0? Mayweather is older — he'll turn 37 this February — but he's still bouncing like a teenager.
Rios is seven years Pacquiao's junior. I hope this age difference becomes a plus for the Pinoy — the added years of experience — and not be a liability because of the "bug-bug" (too beat-up of a fighter) syndrome.
As to Manny's preparation, Freddie Roach is still the "coach" but what's new is the absence of Alex Ariza, who handled his conditioning for many, many fights. Also, the main difference, they won't be headed to Los Angeles. While Manny's previous camps included must-training sessions at the Wild Card Gym, this time, it's just in Gen. Santos City. This is new. It's a plus because he'll see Jinkee nightly but it might be a minus because, well, it's not the familiar setting of Wild Card Gym.
For now, it's 21 days and counting… Excited about Macau? You bet.