It wasn't a stunt. It wasn't staged. This was not something scripted or planned. It wasn't part of Bob Arum's official schedule for The Clash in Cotai.
At 11 a.m. yesterday, when Freddie Roach entered The Venetian gym ready for his team's workout, he was told to get out. Furious at such a rebuke, Roach fired the opening salvo. He called Robert Garcia, the trainer of Bam Bam Rios, "You piece of s***!" Shocked at the tirade, Garcia returned verbal fire. Watching from behind, Alex Ariza joined the scuffle. He screamed at Roach, "Get the f*** out of here!"
"Throw me out! Throw me out! Make me leave! Make me leave!" the Wild Card gym owner replied. That's when Ariza, who was Pacquiao's conditioning guru for five years until he was fired and he transferred to the enemy's camp, did the crazy move: He mocked Roach's Parkinsons illness by stuttering. Insulted, Roach moved forward. Ariza threw a flying kick that slammed Roach's chest. F-words were thrown. In the extra heat of the moment, Roach fired another barrage of words, this time, racist: "You Mexican motherf***er!"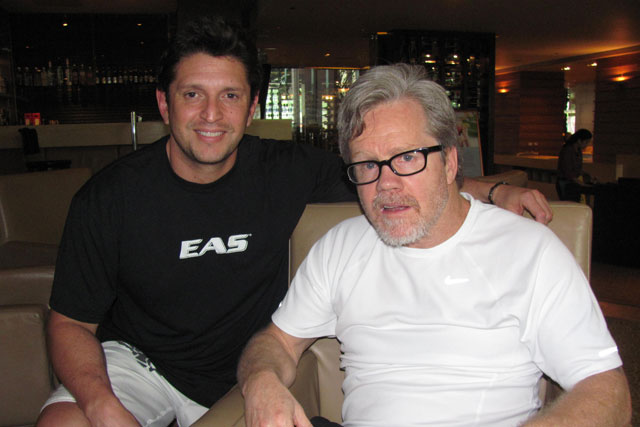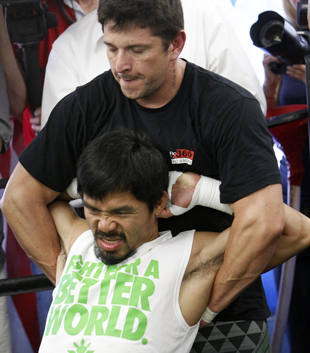 Back then…
The whole episode lasted only 69 seconds but it was horrible. Parkinsons Disease mockery. Racism. Shoving. A high-flying kick. And the most F-words you'll hear in a single minute. I'm not sure if I've witnessed such animosity in any of Pacquiao's previous fights. This started when Rios and Garcia posted a video mocking Roach with his disease. While Rios later deleted the video and apologized, the wound inside Roach's heart never healed. This "pre-fight" was exacerbated by Alex Ariza's departure. MP's strength coach since 2008, Ariza boosted the Pinoy's muscles as he moved up in weight classes, en route demolishing Hatton, De La Hoya, Cotto and Margarito. For five years, Ariza was beside Manny. Until he was fired last August. Quickly, he transfered to the Rios camp — thus intensifying the Roach-Ariza dispute.
Then yesterday happened. It was an altercation (an "Undercard" fight) waiting to happen — exactly 97 hours before Manny and Brandon step inside The Venetian for the Main Event.
Oddly, while the supporting actors have been brawling, the main Hollywood stars are friendly. I watched the HBO Face Off by Max Kellerman (it's a 13-minute YouTube video you must see) and it's interesting: These two guys like each other. Seated just three feet from each other's noses, they smiled, laughed and complimented the other. Rios is forever saying the f*** word — that's his normal talk; but there was no hatred or outrage towards Manny. None. A big part of this has got to do with the Sarangani congressman. Rep. Pacquiao is just a super nice guy. He is. Though his profession bloodies cheeks and slams ribs and deforms faces — deep inside, Manny is a good person who wants to do no harm. Rios knows this. That's why he reciprocates by mirroring Manny's good nature. In the HBO one-on-one, Manny's goodness is further exemplified because he mentioned "God" so many times. Manny has changed. It is as clear as the full moon of the past couple of nights. He has become good because of his newfound faith. This is good. But whether this has softened The Boxer — whose job is to maim and destroy, contrary to God's commands — will be a question mark.
As good as Manny is as a human being, the same nice-guy sentiment can't be applied to Roach-Garcia-Ariza. Their incident has further whetted the public's appetite. It's like an appetizer. It prepares the diners (us) for the main meal. Not staged nor produced by HBO 24/7, it raises the heat ("inot ulo" kung Bisaya pa) level, all in fiery anticipation of this Sunday.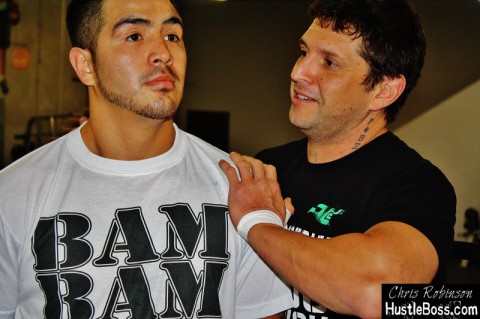 QUOTE. From Robert Garcia: "Twice during the two episodes of '24/7' I've heard Freddie Roach say he will ask Manny Pacquiao to retire if he loses to Brandon Rios. Well, Freddie had better buy that gold watch for Manny because the retirement party begins on Saturday night. I guarantee you this will be the last time you ever see Manny Pacquiao on an HBO Pay-Per-View."