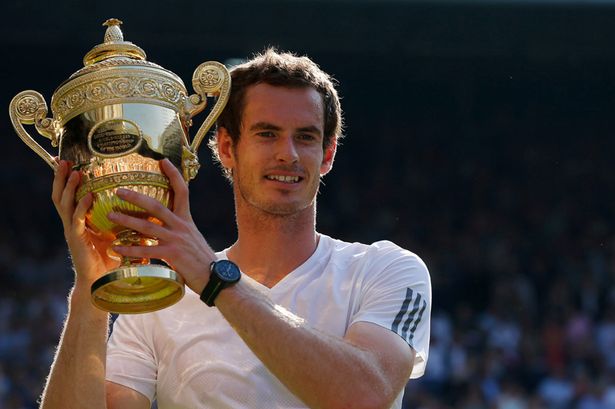 Randy del Valle, a friend from Cebu who's resided in London, England since 2009, was at the Wimbledon Gentlemen's Final together with his son Luigi two days ago.
"We arrived at Centre Court of Wimbledon around 12:30 noon," he said. "We passed through Gateway 518 and sat on seats 354 and 353 on Row ZE."
Ticket prices? I asked.
"£130 each," Randy said.
In pesos, that's a high P8,500 per ticket. Not your usual Cebu Coliseum prices, for sure; but this is the most prestigious tennis spectacle in the universe with the world's top two ranked players.
"What a day!" Randy e-mailed me, just hours after witnessing the historic victory of Andy Murray over Novak Djokovic. "This is my best Wimbledon experience after being here for the fifth time."
With coach Tommy Frederiksen, friends Jourdan and Jingle Polotan, and my two girls, Jasmin and Jana, in our home theater room, we watched at 9 P.M. the other evening. And while the 32-stroke rallies were intense and exciting, nothing compares to watching it in person.
Randy continues his personal observations: "The last game at the 3rd set – what a thriller! The centre court was about to explode. When Murray broke 4-5, the crowd went wild and you can see a good mix of tension and excitement. With 3 championship points at 40-0,  we were on our feet until the deuce and 2 break points. The see-saw truly was a thriller and I actually expected Djokovic to break and that we'll go to 4th set — but finally after the 4th championship point, Murray did it and became the first British man to win the gentlemen's bracket since 1936 (77 years ago)."
On a hot London day that Randy describes as "scorching but nice" (he and son Luigi happened to be seated in the shaded area), he saw plenty of celebrities: Prime Minister David Cameron, Victoria Beckham, Sir Chris Hoy (the cycling champ) and some Hollywood celebrities. He added: "The crowd was great – can't imagine another tennis spectacle with this type of atmosphere – a lot of firsts… It is definitely called the Murray Mount (farewell Henman Hill) – went there to see the crowd and wow, it's huge… After a lot of upsets in the 1st week, this truly is the best ending of a great Wimbledon 2013!"
NOTES. What a tournament! After all the upsets, injuries and unpredictabilities, it ended with the two world's best players on center stage. A few points…
Sabine Lisicki: that was painful. Usually, after a few games into the match, the nervousness subsides. Not Lisicki. Not until the score was 6-1, 5-1 and she was two match points down did she resurrect. But it was too late. We all felt sad for her. With her normal game on grass, she'd have won. Her 125-mph serve is as fast as Serena's. The entire Wimbledon finale overwhelmed her. Sayang…
Andy-Nole: I actually found the final not as exciting as one where Roger or Rafa is involved. As our group (who watched) analyzed why, we realized the reason: these are two overly-steady, we'll-never-miss players. Unlike Roger's forehand or Nadal's topspin or Del Potro's running crosscourt angle, Andy and Nole are content to jab-jab-jab until one commits a mistake. They rarely go for the big, knockout shots. This was a game of fitness and mental fortitude. The man with the steelier nerves, wins.
Best quote from Andy: "I think I persevered. That's really been it, the story of my career, I had a lot of tough losses, but the one thing I would say is I think every year I always improved a little bit. They weren't major improvements, massive changes, but every year my ranking was going in the right direction.. I kept learning and I just kept working as hard as I could."
Anderson Silva: ha-ha; I know, he's no tennis player. But, like millions of you worldwide, I watched the fight last Sunday noon. Hambog! Can you believe how much he was taunting Chris Weidman? He was too cocky. And that's what happens to people who believe they're too good and invincible. Can you imagine if the same thing happens to one who's just as boastful, Floyd Mayweather, Jr.?