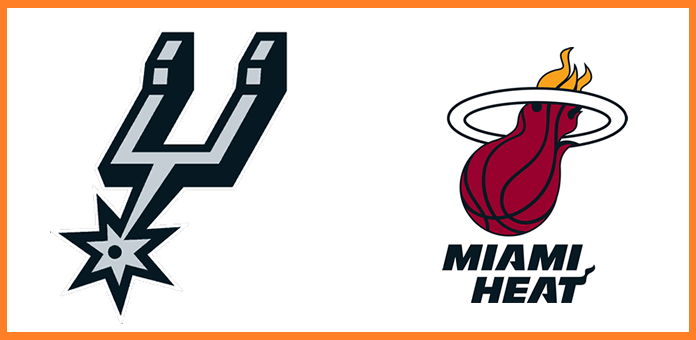 Miami is in Florida while the city of San Antonio is in Texas. I've never been to either state. But, based on my little research, no two cities can be more different.
Miami is the "Cruise Capital of the World" and is located along the Atlantic coastline. We all remember the hit TV show, "Miami Vice," right? We picture a city with blue skies hovering, red Ferraris sprinting, and green palm trees lined-up along Miami beach.
San Antonio is large. It's the 7th most populous city in the U.S. (1.3 million) and it hosts several military bases — apart from having a rich history of cowboys. The city is named after Saint Anthony of Padua.
MIA v. SAN: Starting tomorrow morning (Phil. time), all eyes will be on both basketball squads. Plenty of questions arise: Is Miami weary and tired? The 10 days of rest between games, will that make San Antonio rusty? How will each team clamp down on Tony Parker and LeBron James? Which coach is better: our Fil-Am Erik or Gregg Popovich? Miami hosts games 1, 2, 6 and 7 — will this home-court advantage help?
I guess that — excluding Game 7 — the most crucial game in the series is Game 1. If the Spurs win that game, it sets the momentum. It transfers the home-court advantage in their favor. It adds extra pressure on the Heat to win Game 2 because if they also lose that fight, then it's game over. If the Heat win Game 1, then all order is restored. They're not tired after all. They're on track to receive the trophy that's been awarded to them even before the season started.
Another question remains: Can LeBron finally beat Tim Duncan? Six years ago, the Cleveland Cavaliers faced the Spurs in the Final. They were humiliated with the 4-0 win by Duncan.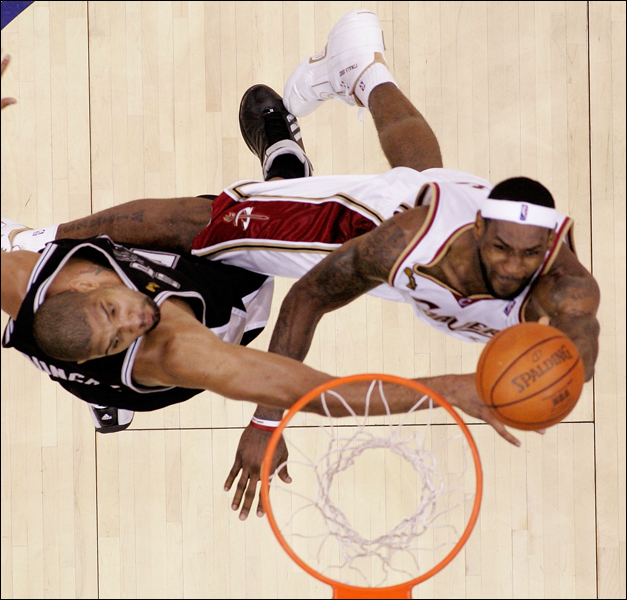 "I think our team is more experienced, first of all," James said after his team defeated the Indiana Pacers in Game 7. "My Cleveland team, we were very young, and we went up against a very experienced team, well-coached team. And they took advantage of everything that we did."
Back in 2007, LeBron was only 22 years old. He did not own an MVP award yet. Today, at 28 years of age, his season includes averaging (per game) 26.8 points, 8.0 rebounds, 1.7 steals and 7.3 assists. He made 56.5 percent of all his field goals. To top these amazing statistics, he is a four-time MVP, a six-time All-NBA first-team member and was, for five straight years, part of the All-Defensive first-team. "I'm a much better player (now)," said James. "I'm 20, 40, 50 times better than I was in the 2007 Finals."
One more question: Which Big 3 will dominate? San Antonio has Manu Ginobili, Parker and Duncan. Miami has Dwayne Wade, Chris Bosh and James. (On Wade and Bosh, they've played sub-standard games against Indiana. Wade averaged only 14.5 points per game before scoring 21 last Tuesday. Bosh, in his last four games, was worse: making only 8 of his 34 shots.)
My pick, of course, is Miami. But plenty choose San Antonio. One of them is Ben Golliver of SI.com who picks the Spurs to win in 6. He says: "Rested, experienced, balanced, intelligent, disciplined and potent, San Antonio is a nightmare matchup for any opponent, particularly one struggling with team-wide inconsistency and, possibly, a series-altering health concern in the form of Dwyane Wade's ailing knee."
I asked former PBA star and UV coach Elmer "Boy" Cabahug for his assessement. Here's what he said: "Spurs is doing great. Consistent game of Duncan, Mano and Parker are big, big factors. Plus, McGrady might be their secret weapon. If they scouted the game between Miami and Pacers, the Pacers won when their team had balanced production: Low post and outside shooting. Miami lost when Wade and Bosh were off. Miami's outside shooting must be consistent. That is their first option (shoot outside); they don't have a post-up man. These two teams should stay healthy; any injury will cost them the championship. It will all depend on coaches' strategy and counter-strategy."
The NBA: Where amazing happens tomorrow!