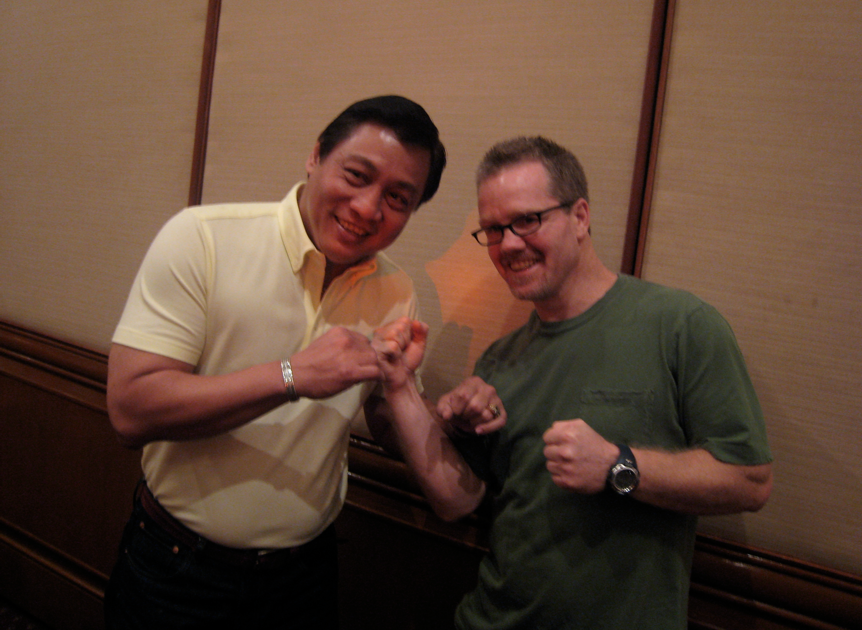 Almost like a ritual, each time the NBA Playoffs gets underway, I make a phone call. It's no ordinary Samsung-to-iPhone conversation. That's because the person on the other end of the line is no ordinary basketball follower. He's Raul "Yayoy" Demerry Alcoseba, the Phil Jackson of Cebu.
"Miami owns championship experience," said Yayoy Alcoseba, moments after the Miami Heat defeated the Indiana Pacers, 90-79, last Friday. "This is the huge edge of Miami. Plus, of course, LeBron James. Wow. His third quarter was unbelievable."
The no-holds-barred forecast of Coach Yayoy? He said: "Miami will win Game 6 (today) and win the series, 4-2."
We talked at length about Miami's player with the jersey number 6. "The reason why LeBron has improved so much, especially this year, is because he's surrounded by good players," Yayoy said. "There's Bosh, Wade, Haslem. Unlike his time with the Cleveland Cavaliers. He was alone. Iya tanan. Now, he not only scores but also has double figures in assists and rebounds. He's complete."
The winningest coach in Cebu basketball history, Coach Yayoy gave me a phone lecture on what makes a team successful. "It's never a one man show," he said. "Sure, there will be superstars. There will always be stars. Look at Michael Jordan. He was the star. But he would not have become great and won for Chicago all those titles if not for Pippen and the rest of the team."
It's the team, says Yayoy. It's never about one player. Although what we witnessed in Game 5 — when LeBron performed a one-man demolition job; outscoring the Pacers, 16-13, in the third quarter, for example — was different, throughout the season, LeBron has relied more on this teammates than at any other point of his career. "Chemistry," Yayoy adds, "is essential to success."
Miami Heat has become an even better team this year, he says, because the other players have contributed more. Yayoy spoke about Ray Allen, Norris Cole and Chris Andersen. "They may not contribute with points but with the defense," he says. And when LeBron penetrates to the rim, he has many options in case the defense is overwhelming. He can pass and the others will score. Look at Haslem.
This is what's scary about Miami — scary for their opponents. Because while all the focus is on LeBron and/or The Three Kings (LeBron, Wade, Bosh), it appears that they have other weaponry available — thanks to the other teammates. "Their bench is very deep," Yayoy adds.
What if Indiana wins today (Game 6) and upsets Miami in Tuesday's Game 7?
Yayoy laughed. "The ratings will go down!" he said. Few want an Indiana-San Antonio NBA finale. That will be boring. The NBA is about superstars and, devoid of figures like Durant or Kobe or LBJ, that championship will have the lowest ratings in years.
How about a Miami-San Antonio final, what's Yayoy's prediction. "Four-two, Miami," he said.
CEBU. Speaking of local politics, Raul Alcoseba, after three terms as Cebu City councilor, ran for Provincial Board member in the last elections. Never used to losing, he, obviously, won.
"I've spoken to Governor-elect Junjun Davide," said Yayoy, "and I hope to help with sports. That's my expertise. And not limited only to basketball but to the whole sports program of the Province of Cebu. We will help identify and develop athletes."
Back to coaching, has he resigned? Reports have surfaced saying that he will no longer coach the Southwestern University (SWU) Cobras.
"I have to finish my contract," he said. "I have one year to go. I just got very busy with the campaign and the elections that I had to reassess my coaching job."
Coach Yayoy is excited about the improvements being done to the Aznar Coliseum. "SWU has spent P1.7 million for the rehabilitation of the flooring," he said. "Plus, Michel Lhuillier, through M. Lhuillier, has spent P1 million for brand-new, NBA-caliber goals. Once reopened, this will be a great-looking gym!"
That's in Cebu. But for now, at 8:30 A.M. (PHL time), our focus is in Indiana. Go, Pacers. I'm rooting for a Game 7.