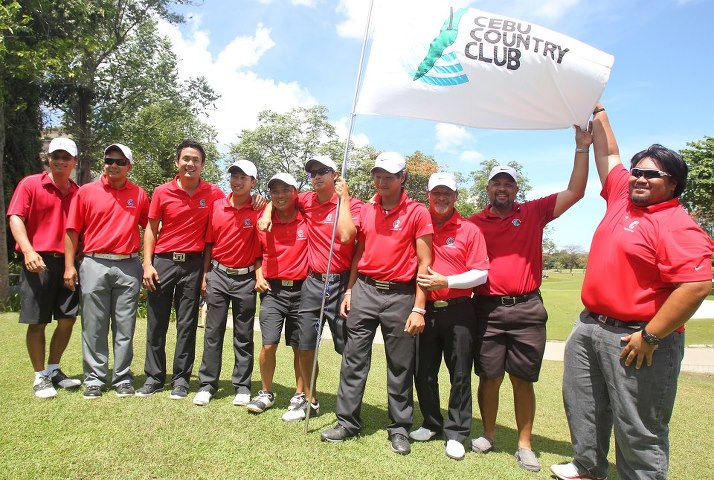 Bayani (far right) with his CCC teammates
Two Saturdays ago, the 2013 Club Championships of the Cebu Country Club was played. After a weeklong series of one-on-one contests (called "match play") pitting winner against winner, one final winner emerged.
Though his family owns this newspaper (his dad, Atty. Jesus "Sonny" Garcia, Jr., is SunStar's chairman), very few words were devoted to his victory.
Bayani Lopez Garcia is the 2013 CCC Club Champion. It's his second trophy after winning the 2009 edition. "This one feels good," Bayani said. "I proved to myself that the first club championship was not a fluke."
Bayani's path to victory included two excellent qualifying rounds (69-71) and never trailing in any of his matches during the knockout stages. (En route, the No. 2 seed also defeated Marco Mendoza, Kim Kwang Seok and, in the semis, Andre Borromeo.)
In the 36-hole, morning-and-afternoon finale against Lloyd Jefferson "LJ" Go last April 27, Bayani once again played near-flawless: grossing 4 under and being bogey-free in the first 27 holes. He credits his consistency to Coach Andrew Ong.
But as outstanding as Bayani's performance was, LJ played well, too, in particular in the third 9 holes. "LJ played the lights out having back-to-back birdies on 2 and 3 as well as sticking his second shot on the 25th hole (hole 7) to a few inches for an easy eagle!" Bayani said. "From 4 down after 19 holes to being dead even after 28. That was one of the best 9-hole performances I have ever seen and to be able to pull it off under immense pressure was just remarkable."
In the end, though, the more remarkable one was Bayani, who proved that experience still prevails over youth. The 27-year-old Bayani beat LJ, only 18, with a score: 1-up.
"I was actually not favored to win this match," Bayani said. "Lj was the favorite since he was the top seed during the qualifying and he has been joining tournaments here and abroad. Also, because the finals is 36 holes and me tipping the scales well over 300 pounds, people thought I could not withstand the final."
Of LJ, Bayani had this to say: "He is a phenomenal golfer with a very bright future ahead of him. Most importantly he is one of the kindest people I know. He is a very good friend with a big heart, very thoughtful and considerate, and a very jolly demeanor. He is the epitome of a true sportsman."
The past two months — helping CCC win the 66th PAL Interclub Championship Division title in March and winning this individual trophy in April — have given Bayani a golf high. "It feels great! The two are the most important tournaments for me and to be able to win both is a feeling like no other!"
As to Bayani's favorite player, his response was tiger-quick: Mr. Woods, the man he watched win the 2000 British Open Championships at St. Andrews. "Nobody in the sport has the mental toughness and drive," said Bayani.
Finally, I asked Bayani why he loves the sport and what lessons he can impart to his fellow players.
"Golf is character-building," Bayani said. "It is the only sport where your greatest adversary is yourself. It is how you deal with different uncontrollable situations that can decide on whether you win the tournament or not. It teaches you patience, perseverance, commitment, an,d most importantly, decision-making. It is a life teacher.
"Never give up on yourself. I know a lot of golfers that easily get discouraged because despite all the hours they spend on the course, they do not see an improvement in their game and handicaps. I always tell myself when I'm playing bad that things will always get better. I just have to weather out the storm and continue to practice in order to improve.
"Have fun and enjoy the game! Golf is not just about hitting balls to a target, making putts, and scoring well. It is a time where you can break free from the daily grind, have time for yourself at practice and enjoy the company of your friends during. It is about de-stressing and for 4 hours of your day, leaving your work and the daily grind behind."