I'm republishing this article I wrote last Feb. 22, 2009 (last year)…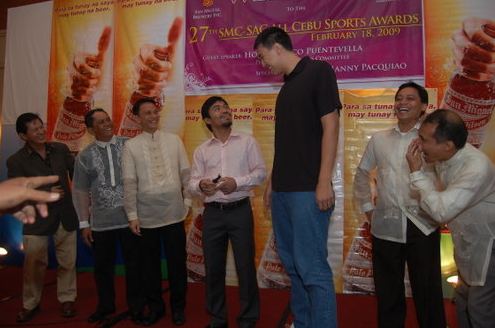 Manny looking up at 7-footer Greg Slaughter; from left, Raffy Uytiepo, Jun Migallen, John Pages, Jingo Quijano and Raffy Osumo (Photo by Iste Sesanted-Leopoldo of CDN)
As president of the Sportswriters Association of Cebu (SAC), I was tasked to give the Closing Remarks at last Wednesday's 27th SAC-SMC Cebu Sports Awards at the Casino Español.
I prepared a 10-minute speech. Instead—because Pacquaio had left, the clock neared 10:30 p.m. and the crowd sat restless either to have photos with Greg Slaughter or to head home—I delivered a 25-second "Thank you and goodbye" message. Allow me to read to you—in writing and in full—my speech…
"To Acting Vice Mayor Jun Davide and Councilor Jack Jakosalem, thank you for joining us tonight. I promise not to talk about the Cebu City Sports Center track oval! Thank you to Girlie Garces of SMC, our awards night partner for decades.
"I'd like to congratulate Fr. Vic Uy, the first Cebuano PSC commissioner, who is the Presidential Awardee. To my fellow Rotarian, Francis Onglatco, the Orlacsan Awardee. To Maxi Maximo, the Sportsman of the Year. To Donnie Nietes, who is represented by Michael Aldeguer. To Gerry Peñalosa, our co-Athlete of the Year… Congratulations!
"I'd like to recognize Nonito and Rachel Donaire for joining us. Same with the president of the Casino Español de Cebu, Manny Sainz.
"Our Guest of Honor, Monico Puentevella, the congressman from Bacolod, maayo ni siya mag basketball kag mag-tennis. Plus, he's an excellent singer! Maybe we can hear a duet later with Manny?
"Dr. Manny Pacquiao: We're lucky to be the first event to address him as Dr. Pacquiao. And, I'm sure next to GenSan, Manny calls Cebu home. Why? Because his father, Rosalio, comes from the southern town of Pinamungajan. Dili ra si Manny maayo mo Bisaya, naa gyud siya Cebuano roots. Thank you for accepting our Lifetime Achievement Award. Hangyo lang mi that this May 2, katong hambugero kaayo na taga England i-knockout nimo!
"I'd also like to commend all the parents who are here. Without your support, example, sacrifice… your children will not be here.
"To our awardees, congratulations! This is a memorable night. Imagine, this is the 27th Awards Night and there have been thousands of past Cebuano greats who've come before you… but, tonight, is your night.
"Feel proud. Celebrate. Smile. And, before the night ends, have a photo not only with Manny but with all the other athletes. THIS HAPPENS ONLY ONCE A YEAR.
"Two tips I want to share with you summarized in three words: BE LIKE MANNY!
"Never stop learning. Look at Manny. He's the greatest boxer in the world. On his off days, he can be watching TV all day or relaxing at the beach… but, no, what does he do? He enrolls in college. He reads. He's planning to become a lawyer. That's amazing. Shows how learning and studying is so important to Manny. So I hope that we, too, will learn from this: to never stop learning, never stop improving.
"Work hard. There's no shortcut to success, especially boxing.. you're the only one on the ring. Like my fellow sportswriters, I've watched Manny up-close train at Wakee Salud's gym and you won't believe what he goes through: the no. of hours he trains, all the beating and suffering he undergoes. I asked others if they try to follow Manny and they do… but they all get sick! Nobody can match the work ethic of MP. So, I know you all work hard but, if you want to become a world champion… you've got to train like MP!
"To end, let me say that if you grab a newspaper today and scan through its pages, what do you see? BAD NEWS. If you look at the front page, there are murders, factory closures, Texters' Choice fiascos… Bad news.
"But, did you know that there is one section in the newspaper that is the GOOD NEWS SECTION. You know which one? It's the sports section. And why are the sports pages the good news section?
"BECAUSE OF ALL OF YOU. Because of your Palarong Pambansa gold medals, your trips to Singapore or Hong Kong where you won silver or bronze, your flying to Manila and beating RP's best. Because of you, there is good news. Thank you."