It's called "The Oscars" of its sport. If the game were American football, it would be the Super Bowl. If soccer, the once-every-four-years World Cup. It is comparable in stature to The Masters of golf, the NBA Finals of basketball, the Olympics of the 100-meter dash. Such is the popularity of this 14-day-long event that one British man once quipped, "Tennis is not popular in England. Wimbledon is."
Why? Why is this event held at the All-England Lawn Tennis and Croquet Club in the London suburb of Wimbledon considered so revered? For one, it is "the oldest tennis tournament in the world." And isn't being the first—like that first kiss, the birth of your first child, one's first job and paycheck, a first-time trip abroad—always special and extra memorable? That's W.
Founded in 1877—that's a hard-to-believe 122 years ago—the very first event drew only 22 players. A measly 200 spectators attended the final. Yet, year by year, it evolved. Starting with an all-male tournament in 1877, in the year 1884 it added the Ladies Singles and the Gentlemen's Doubles. (Note that in no other event, in my knowledge, do they address "Men" as "Gentlemen" and "Women" as "Ladies." Such reverence.)
And if you ask why the term "lawn tennis" and not just plain "tennis?" well, consider the surface. Doesn't it look regal? Classy? Because while blue hard-courts and brown clay-courts are common ground, what makes W. more distinguished is the lawn. The green. The grass.
Which makes me ask: Can you imagine playing tennis on grass? I wish! (In my 23 years of swatting backhands, that remains one of my elusive dreams.) Grass is soft on the feet. The color is natural beauty to our eyes. The surface offers odd bounces and is slippery—again, unlike any other on earth.
Tradition. Yes, that remains a key element to W. Notice the all-white attire. Consider the ruling that states that the defending champions play the first matches on Centre Court. (This year, Roger Federer played first after Rafael Nadal withdrew.) They have strawberries and cream. Plus, did you notice the linesmen? Nowhere can you find linesmen wearing cream-colored pants, white shoes and green/blue neckties—all supplied by Polo Ralph Lauren. That's W.
What's new this '009? You've heard about it: The Roof. For the first time, they installed a gleaming retractable roof to cover Centre Court. This idea arose because of the plenty of rainy days in the past. But what's funny is, thus far, not a single raindrop has fallen since Day One. That's seven straight days (excluding last night) of bright, sunny days. This is unusual—and hilarious. They spend millions, inaugurate the rooftop with Mr. and Mrs. Andre Agassi as performers, trumpet its design and usefulness—and there's no rain!
Who, in my judgment, will win this weekend? It's hard to bet against the only two players joining who've won five W. trophies each: Federer and Venus Williams.
Ms. W. is such a colossal force in W. because of her height and serve. Standing 6'1" with long arms and even lankier legs, she serves 120-mph-plus aces. (Would you believe that, according to Wikipedia, in Wimbledon last year Venus had a higher average serving speed than both Nadal and Federer!)
Among the men, the choice is obvious. Wearing gold, he's won an Olympic men's doubles gold and, come Sunday, will add a sixth W. plate to his overcrowded trophy collection. If Federer wins, it'll be historic. Beaming with confidence after his Parisian win three weeks ago, no player can defeat him on grass.
Well, maybe one: Andy Murray. Imagine a Swiss versus an Englishman finale? Because not since Fred Perry won the event in 1936 has a Briton won W.
Their much-anticipated final will be just as compelling—maybe more—than the usual triple-R… Rafa-Roger Rivalry. And here's the intriguing scenario: Murray has beaten Federer six out of the eight times they've met, including the last four.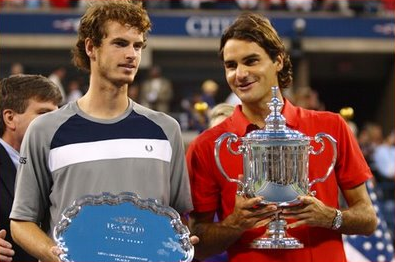 At the 2008 U.S. Open