The last time I saw Roger Federer, in person, was 10 months ago at the Beijing Olympics. In the first round, he played Dmitry Tursunov. Seated on Row 2 just 30 feet away, my wife Jasmin and I gazed at a man who wore a red T-shirt, white bandana and shorts, and a pair of Nikes with the letters engraved, "RF." On the stands watched LeBron James.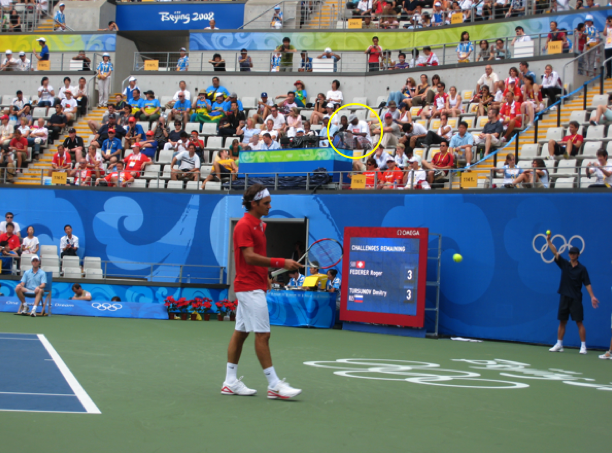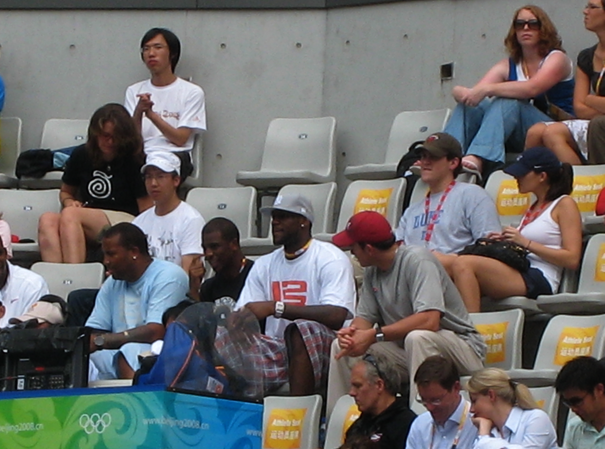 Roger won that match but, two opponents later, was upset by James Blake. A proud Swiss who values the significance of the once-every-four years Olympics, Federer was crestfallen. Matters were worsened because, days before 08-08-08, he had lost the no. 1 ranking to Rafael Nadal, who went on to win the singles gold medal in China.
Federer was distraught. His confidence, shaken. Yet, never mind the discouragement, he marched on. Teaming up with Stanislas Wawrinka for the doubles, they won point after set after match until, as Jasmin and I witnessed at the Beijing Olympic Green Tennis Center, the Swiss duo won the men's doubles gold.
What did that episode say about RF? It displayed his willpower. It demonstrated an athlete who is unbreakable and tenacious. Federer showed us that in tennis, much like in life, even if the task is uphill, winners rise.
Why this recollection? Of the Olympics? Because isn't this the same person, the same Roger, who displayed such resilience at the French Open?
Consider that, from 2003 until 2008, Roger was invincible. Ranked No.1 for 237 consecutive weeks, he won Wimbledon, the US and Australian Opens and, from 2005 until last year, was named The Laureus World Sportsman of the Year. Fed-tastic Roger, he was.
Until the Red Bull of Spain emerged. Because while Roger won against everybody else, he was repeatedly humiliated by the leftie, including a 6-1, 6-3, 6-0 whipping 12 months ago in Paris. The list of misfortunes continued… he lost Wimbledon '08, lost in Australia last January, lost in Barcelona, Rome and Monte Carlo during the clay court season.
Roger was lost. And, in the past two weeks in Roland Garros, Roger lost. Nearly. Four times, he trailed opponents; four times, he resuscitated his game. Until, just less than 48 hours ago, he not only rebounded—but turned his story in history: tying Pete Sampras' record.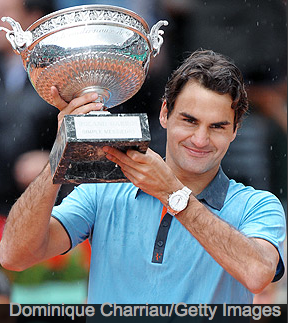 Wow. To me, an avid tennis pupil of the past 23 years, this teaches us plenty of lessons. One, to never, ever, ever lose hope. Because while critics, me included, believed that the Swiss would never win Roland Garros, he believed. His spirit never wavered.
Patience. That's second. Thrice a losing finalist, Roger was, like the way one should play on le terre battue (red clay), patient. Like I said the last time, "Patience is bitter but its fruit is sweet."
His victory also teaches us to be "cool." For it doesn't matter the score, Roger is always unruffled. Much like Barack Obama on the podium or Tiger Woods teeing off, it shows us that "the more relaxed we are, the better we perform." Wasn't this most evident when, midway in the final, that lunatic stormed into the court and ran towards a shocked Roger? (Macky Michael and doctors Ronnie Medalle and Ron Eullaran, my companions last Sunday, were sure that Robin Soderling paid that intruder to disturb his cool-headed opponent!) But Roger, though obviously annoyed, was calm and unflappable.
Best of all, Roger teaches us to be nice. For here is Roger's motto: It's nice to be important, but it's important to be nice.
What's next for The Fed? Wimbledon, which starts in 13 days. And what an easy target for the five-time champ, given his renewed confidence and reports that Nadal might be injured. Next, the U.S. Open, where he's also won five titles.
Which brings us to "The Best Ever" debate. Has he overtaken Sampras? Absolutely. But there's one man left standing. He also owns 14 majors, also wears the same brand of T-shirt, also stands 6-foot-1 and weighs 185 lbs., also won just hours after Roger did last Sunday, but, the difference, he uses a white dimpled ball.
The Best in Sports? That's between RF and TW.