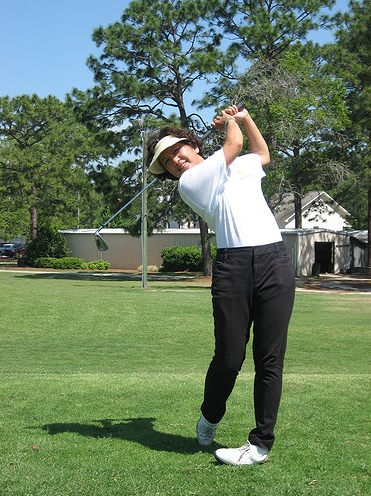 Picture-perfect swing
While Tiger Woods and Phil Mickelson fanatics stayed up all evening last night to watch the U.S. Open final round, I'd like to share with you the experience of a top-notch golfer who was a recent spectator at the event called "The Wimbledon of Golf."
Maria Johnson, whose former name was Maria Teresa "Bebot" Pacaña before she migrated to America 33 years ago, is one of the top amateur golfers in her home state of Georgia. She sports a 4-handicap. Here's Maria's story…
"To all golfers and fans out there, Augusta National, a tradition laden golf course, rings a familiar tune. It is home to The Masters, considered by many to be the grandest of the four majors where all of the top professionals come to win the coveted green jacket. Thousands of people all over the world flock to Augusta National every spring to witness this spectacle.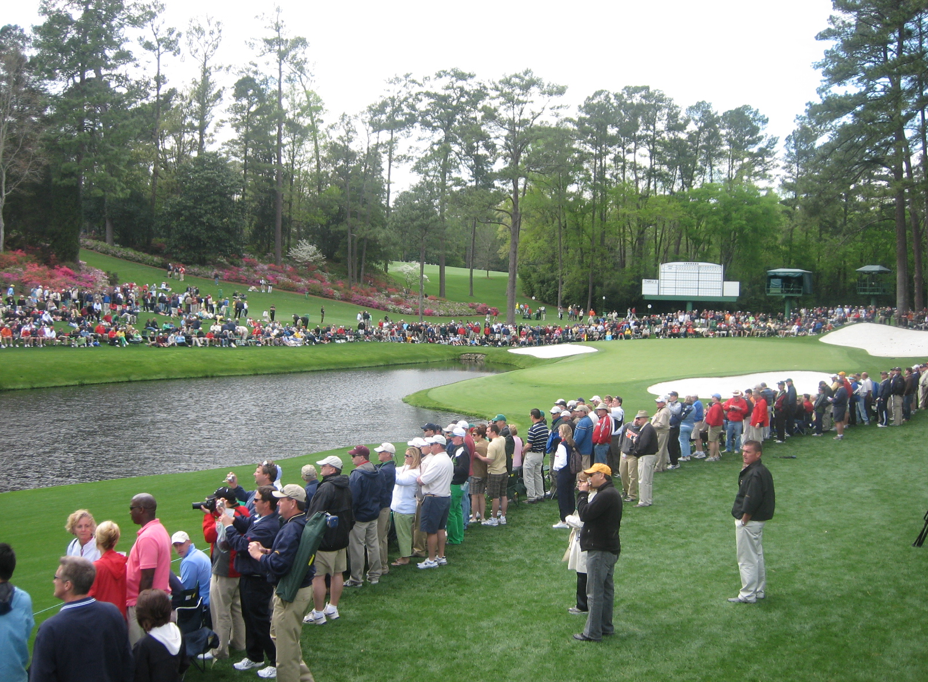 "Last April, I had that rare opportunity. Accompanied by three friends, we left town at 7 a.m. With all the talk of heavy traffic and parking difficulty, I anticipated the inevitable. I was the "designated driver" since I was familiar with the area having been there during my son's stints on the junior golf tour. I decided to enter on the backside of the golf course hoping for lesser traffic congestion. As it turned out, I was right because when we arrived in Augusta after 10 a.m., traffic was light. About two miles away from the course, ticket scalpers were standing on side streets selling tickets at 10 times their face value. Local residents waved at cars to park in their yards for quick profit. ($10 is the going rate but I noticed that the fee doubled as we inched closer.) Nevertheless, we took a chance. Luck was on our side. Traffic was smooth and we parked only 50 yards from the gate.
"Security was tight, similar to a major airport. We were required to unload everything (keys, wallet, jackets, shoes) that would set off the alarm; even my hairclip had to come off. God knows you don't dare trigger that sensitive screen machine!
"Outside food was prohibited but I was surprised to find out that Masters food was priced reasonably and quite good. For less than $5, I had a pimiento cheese sandwich, a bag of chips and a soda. Equipped with a course map, we proceeded to survey the course at ground level starting from the back side.
"From the moment I stepped inside the gate of Augusta National, I was taken by the excitement and the beauty of it all. I have watched the tournament on TV year after year but there is nothing like seeing it live. As it was, and as it always seems to be, Augusta National abounds in pristine surroundings, immaculate fairways and stunning botanical beauty. The sides of the fairways were filled with rows of Azaleas of various colors, pink and white dogwoods, century old Magnolias, Holly and Oak trees. What a magnificent sight! From a distance, the greens shimmered like linoleum floors not yielding much even to the best putters in the world. It was mesmerizing, to say the least.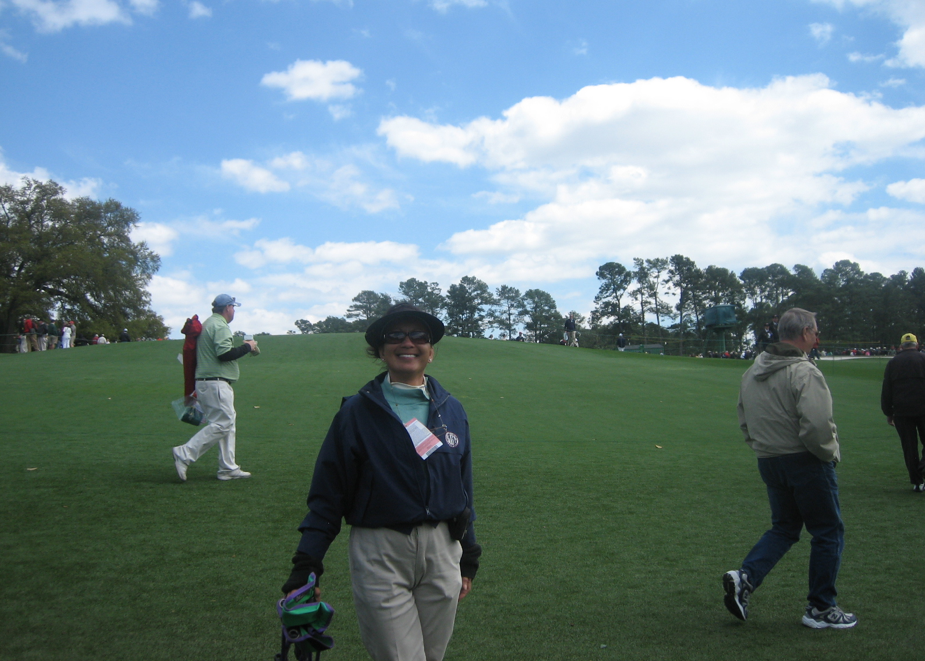 Bebot is all-smiles, in "golf heaven"
"The temperature was in the low 40s and the breeze made it feel even colder. The inclement weather did not bode well for me. It is but one of those forces of nature that is beyond control and cannot be made to go away. But the excitement of being there deterred my thoughts from the freezing wind and warmed me from inside out.
"Electricity filled the air at Augusta National that day. Roars and groans could be heard all over as players produced plenty of thrills. Patrons lined up around the tees and fairways to see and follow their favorites who, once they had teed off at the first hole, went about their business, hardly speaking except to their caddies.
"It was exciting to see my favorite players but as I walked through the 'course,' I realized that their presence was only the second or third most exciting thing that day. The fact of the matter is that just being at Augusta National was a dream come true, and my experience created a lifelong memory. It was everything I could have hoped for and then some."