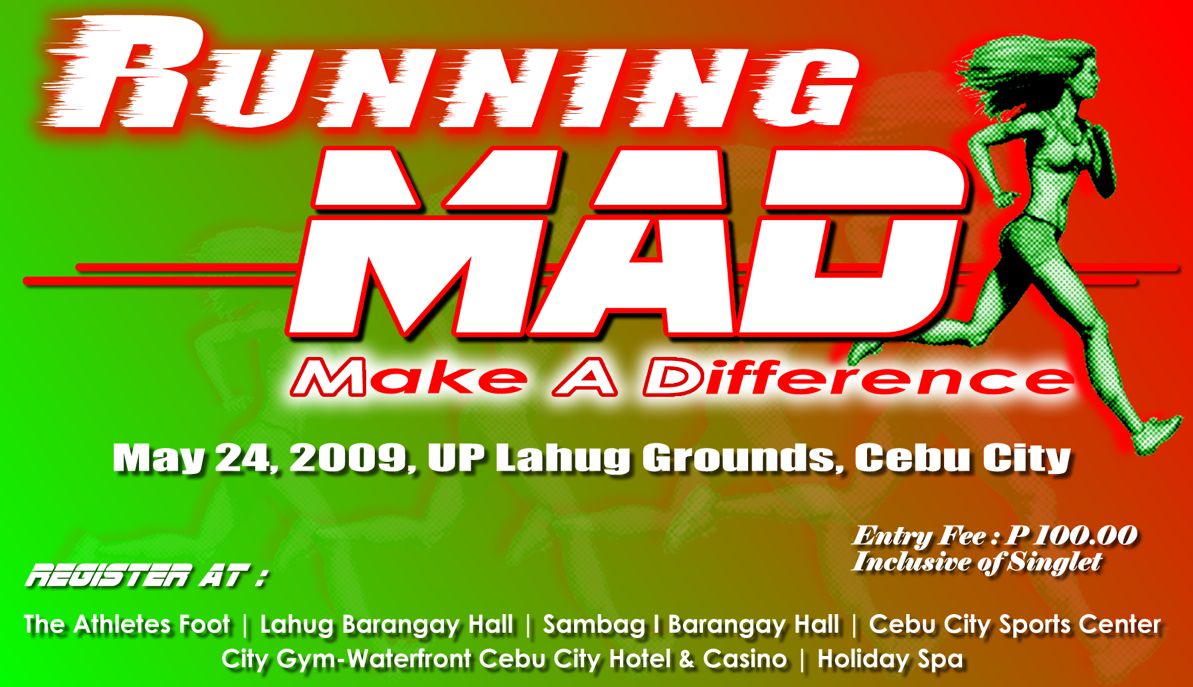 Lahug Brgy. Captain Mary Ann de los Santos is running. She ran in the past, she'll run in 2010 and, this Sunday, starting at the U.P. Cebu grounds and circling the city for 12 long kilometers, she'll run. I'm no political journalist—that's why this space is on these back pages—and so, by "run," I mean, literally, run, as in planting one foot in front of the other and moving forward as sweat drips from the body then bounces off the asphalted road.
Mary Ann has organized "Running MAD," an event this 24th of May with three distances offered for all: 12K, 6K and 3K. This means that, whether you're a four-time marathon finisher like Jesse Jackson Taborada or are planning to join your first-ever race—this race has plenty of options.
The 3K runners will jog from U.P. to farther down JY Square then back—a short and effortless session. The 6K runners run along Juan Luna Ave., hit a U-turn near the Carmelite Monastery, then back. And, finally, the 12,000-meter race participants will circle the city passing through major thoroughfares like Mango Ave., Osmeña Blvd., Escario St., before heading back to the University of the Philippines in Lahug.
Registration fee is only P100 (with a free sleeveless shirt) and you can register at these areas: The Athletes Foot in Ayala, the Cebu City Sports Center, Sambag I Brgy. Hall, Citigym at the Waterfront, Holiday Spa and, of course, at the Lahug Brgy. Hall.