Call it any adjective you prefer—"Amazing," "Incredible," "Breathtaking"—what transpired 24 hours ago at the Quicken Loans Arena in Ohio will forever be etched in NBA history. Down 0-1 in the Eastern Conference Finals, down 93-95 with the same length of time it takes to say "goodbye," LeBron James does the unthinkable: He grabs the inbounds pass, spins around and, barely looking at the goal and with roughly 0.4 seconds left, unleashes a missile that dribbles against the rim of the basket and slides down the net.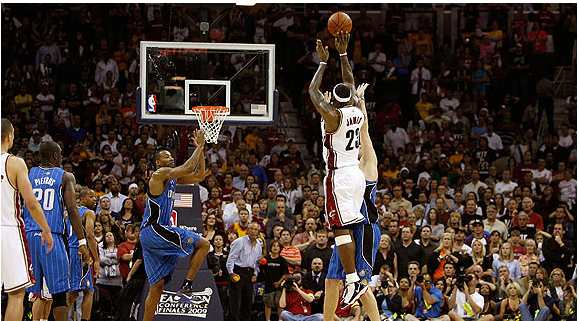 Swoosh! Wasn't that stunning? It wasn't a Steven Spielberg movie—it was better; a real-life script with turns and twists that no one could have plotted and whose ending, wow, was spectacular and unknown until after the buzzer sounded.
Best of all, wasn't that a Michael Moment? For while LBJ had accumulated a multitude of accolades—Rookie of the Year, MVP, scoring champion, Olympic gold medalist—he's never had that one moment like MJ.
Now, this. The LeBron Moment. "The biggest shot I've made in my career," he said. Hey, it may have been the biggest shot in all of the National Basketball Association.
"The Shot," as we recall, used to belong to Michael. Exactly 20 seasons ago at the same town, No. 23 scored the most significant shot of his career when he performed a buzzer-beating acrobatic jumper over the outstretched arm of Craig Ehlo.
That was then. The Past. The Present was achieved using the same numbered jersey in the same city with the same last-second time left.
No. 23 does No. 23 on a 23-footer.
Paying tribute to his idol, LeBron said, "Michael was always the one hitting those shots when I was a kid, so I was Michael, practicing that shot. I got that out of my bag of Michael Jordan tricks."
But how scary was that for the Cavs? How close to defeat were they? After they owned ball possession with the seconds ticking, LeBron drove to the basket—and was called for traveling. Uh oh! we all grimaced. And, when Hedo Turkoglu sank a 13-footer over three defenders and the time clock read, "0:01," we all thought the same thoughts, right?
Goodbye, Cavs. Sayang.
They had a 16-point lead in Game 1. They owned a 23-point lead in Game 2. And lost? Both games?
Almost. Had the Cavs lost and been down 0-2, sayang. All the speculation of an LBJ23 vs. KB24 Finale would have disappeared. All their season's achievements—the 66-16 regular season record and, prior to facing the Magic, 8-0 in the playoffs—would have dissipated.
Had LeBron missed. Thank God he did not.
"It's a tough shot," said Dwight Howard. "I'm shocked that anybody would make that shot."
Shocking? Yes. But not surprising.
One second? Two points down? Either history was to be made or… Goodbye, Cavs.
"Wow," said LeBron. "I seen it before, Hedo has hit big shot after big shot in the regular season and I had to match him shot for shot. Rashard Lewis hit the game-winner in Game 1 and I matched it in Game 2."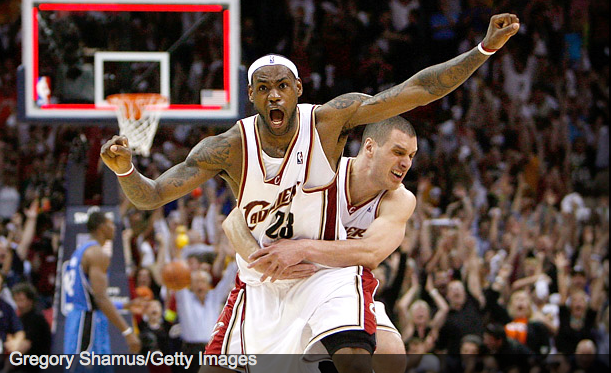 That's what an MVP does. That's why there's a Most Valuable Player. It means that you're unmatched. And, true enough, when a miracle was hoped for, a miracle transpired. For with The Shot, LeBron didn't just win a game—he saved the series.
Here's an interesting point made by my youngest brother Michael. In Game 1, with the seconds dying and a last shot was needed, LeBron dribbled to the basket—but did not take the final shot. He passed the ball. They lost.
Why'd he do that? Michael asked. Valid question, bro.
Not yesterday. Not anymore. The only strategy, based on the discussion between Mo Williams and his teammate, was simple: Pass me the ball. In the interview, Mo was asked for other options. Sure, there were other options, he answered: "Option B was LeBron. Option C was LeBron. And Option D? Option D was Big-Game James."
Now. I've always thought Kobe was the NBA's best "closer?" You know, the man you rely on to take that final, winning basket. As we all witnessed yesterday, my opinion's changed.
Goodbye, Cavs?
Not yet. Not until Mr. James wears that ring.