If Chris Aldeguer—whose brother is ALA Boxing Promotions President Michael and whose dad is Antonio Lopez Aldeguer—sends you a text message at 11:58 a.m. saying, "(It's) one of the best fights I've ever seen," then you ought to sit down and watch.
Chris, you see, has witnessed a torrent of fights, both inside their Talamban-based ALA Gym and at the glittering City of Las Vegas—including two of the grandest blockbusters in history: the Floyd Mayweather, Jr. vs. Oscar de la Hoya 2007 tussle and, just last December 6, Manny Pacquiao's demolition job on the recently-retired ODLH.
Last Sunday morning, as part of his birthday celebration the night before, Chris watched "The Flash and The Furious" at the Araneta Coliseum. With his "best fight I've seen" comment, the young Mr. Aldeguer, of course, was referring to the Brian Viloria against Ulises Solis hostility.
What a quarrel! While we all thought Brian Viloria was a "has-been," a fighter who didn't possess even 1/14th of Manny Pacquiao's bravery, what we saw two afternoons ago was startling.
You heard of Susan Boyle, the Scottish singer in Britain's Got Talent who bowled over the entire world with her rendition of "I Dreamed a Dream?" You saw her video, right? (If you haven't, with nearly 60 million YouTube hits, you must.)
Brian Viloria is Susan Boyle. While we pooh-poohed and ridiculed his fighting spirit before, he stunned and stupefied our eyes. For here was The Hawaiian Punch, right at the onset of Round 1, who poured his enemy Filipino punch after Hawaiian punch and pelted him punch after punch. He was the assailant, the invader, the attacker.
Yes, Chris was right—never mind if our GMA-7 telecast was three hours delayed with painstakingly-long commercials ("You know… you know… Oh, now you know!")— what a combat. What a brawl. What an altercation. And, did not the contest end perfectly, in the second-to-the-last round, with Viloria walloping an all-out, full-force tennis forehand to Solis' forehead?
As Philboxing.com writer Rene Bonsubre, Jr. aptly titled his article yesterday, here's… A Toast To The Hawaiian Punch.
THE FLASH. Let me make an admission: The very first time I met Nonito Donaire, Jr. was in November of 2007 when my college buddy (and fellow columnist and Philboxing.com administrator) Salven Lagumbay invited him for dinner at our restaurant, Mooon Cafe in Guadalupe.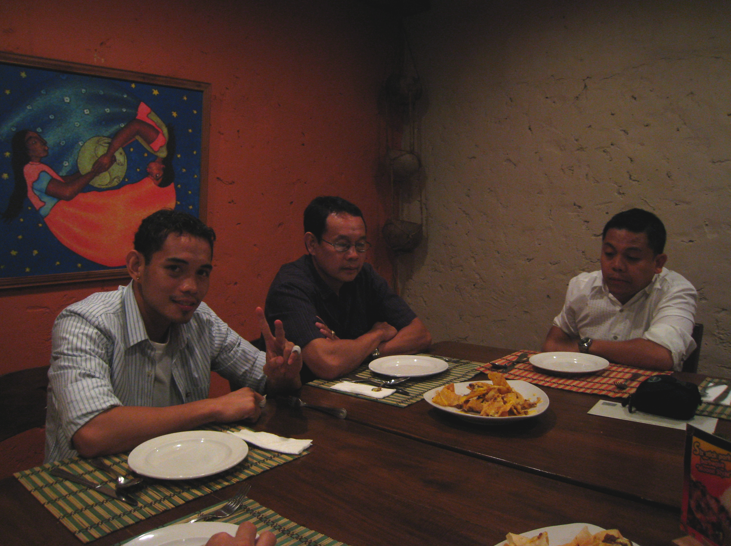 Nonito Donaire, Jr. and Sr. with Salven Lagumbay
Boxer? Was this lanky, scrawny and rawboned man, whose looks and attire made him look more like Fil-Am rapper/singer JR—was he a pugilist, a fighter?
I had my doubts. And, when his mouth opened and he spoke with such cordiality and American slang, my doubt quadrupled. There's no way this gentleman earns tens of thousands of dollars by bloodying people's noses! I told myself.
Fast forward to last February during the 27th SAC-SMC Cebu Sports Awards where Mr. Donaire was our special guest of honor at the Casino Espanol de Cebu. He looked dapper, wearing a gray vest over a white T-shirt and, on his head was a classy-looking newsboy-styled cap. Beside him was his sexy and beauteous wife, Rachel.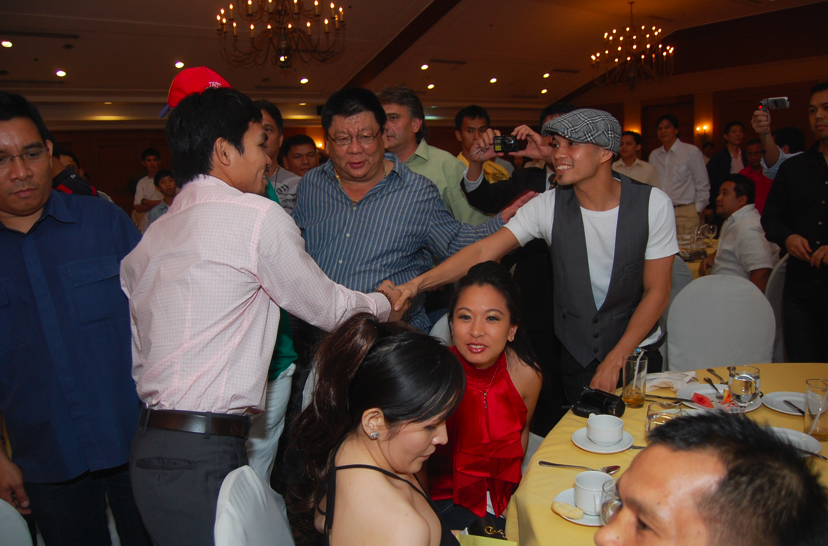 Champion greets champion… with Rachel (in red) and Wakee Salud (center)
Nonito Jr. did not look like—not even the slightest bit—a man who'd shed his shirt daily, flex his abdomen hourly, and thump a contender in minutes.
But, as we all saw 48 hours ago, what a spirited warrior. He was brisk, sprightly, combative. He was slick and deft. And, you're right, what a left! He'd spring in, bounce out. He was shrewd and he hurried. He was stinging, poisonous. Think about it. Did he not look more like a cobra against The Cobra?
My hope—our hope—as we all huddled around the TV sets last Sunday and celebrated and reveled and clapped in Fil-Am victories, is that on May 3, we will all do the same rejoicing and merrymaking. This time, for one more Fil: The King Cobra of the Philippines.