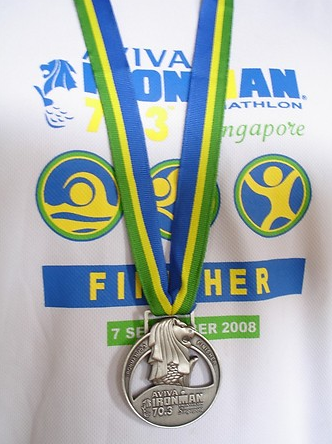 Forty eight hours ago in this same box that you're reading, I wrote about Anthony Regis. He's a swimmer-turned-cyclist-turned-runner who, last September, joined the Singapore Ironman 70.3. That's a grueling event where you swim 1.9 kms., bike 90 kms., then, when your body is downtrodden and all-wearied, you run another 21,000 meters.
In that triathlon's first leg—the swim—Anton dove into the Singapore waters to swim freestyle beside 1,400 other triathletes. He finished the 1.9K swim in 52 minutes. Here's his account of the next stage…
"The bike leg was 90 kms. in 3 loops. My plan was simple: Target was to average somewhere from 25 to 30 kph and to take it easy. The bike route was a flat and fast course and the winds were tough but the scenes were awesome! I tried to ride my bike as speedy and relaxed as I could but, in reality, that did not happen: I did not ride fast enough because I noticed several female triathletes passing me by! Boy, that felt funny. That's okay, I told myself, I'm doing my best.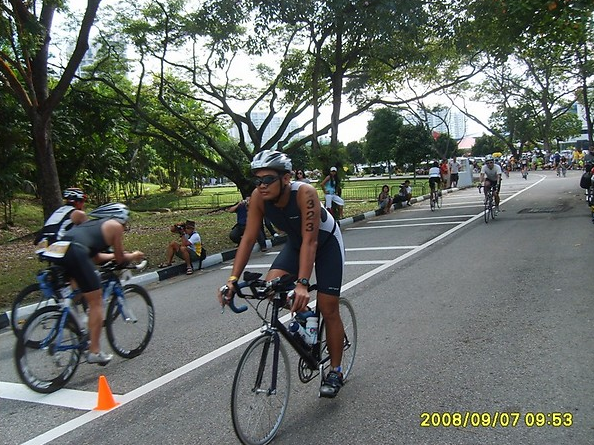 "After finishing my first loop, I saw Bernard (Tanchan) standing by the sidewalk. Judging by his looks, I can already feel it was a flat tire and his race could be over if he doesn't fix it. I wanted to help but it was not allowed so I continued on my way. Looking at the nice view and the athletes with their expensive bikes helped divert my attention from the pain I felt. Yes, I was in pain. My legs hurt and my feet felt a little numb but I had to do it if I wanted to be an Ironman. To my relief, I finished the long ride without major problems after three hours and 29 minutes. I'm proud to say I achieved my target time."
The interesting—and painful—part of the triathlon is that, after you swim and bike, it's not all finished. It's not a two-sport undertaking; otherwise, it would be called Duathlon. With the Triathlon, a competitor always finishes with the run.
"At the Transition Area (TA), I calmly mounted my bike and prepared for the 21 km. run," said Anton. "I exited from the TA with eagerness to finish a 2.5-hour time. As I started running I felt my right knee in pain which left me no choice but to walk from time to time hoping for recovery. I picked up my pace every once in a while and tried to push some more but ended up in frustration. I realized that my mind and body were willing but my right knee was not.
"I walked and ran, walked and ran. On my first loop, I could see my friends (including Bernard) cheering for me from the side of the road. I continued running and looked at some triathletes finishing while I was still in my first loop. The cheers from the crowd, marshals and athletes were so encouraging, it helped me stay focused and happy."
Then, in this event which few Cebuanos have accomplished—the Singapore Ironman 70.3 (the "70.3" connotes the number of combined miles of the three-leg triathlon)—Anton did the unthinkable.
"I ran backwards," he said. "Yes, backwards. As I did this to try and alleviate some muscle pain, another triathlete across the road heading towards the opposite direction followed my running style. He smiled and raised his hands with two thumbs up! I responded with the same two thumbs up and smiled.
"About 4K to the finish line, I felt better and ran a little prouder and faster. With just a few meters to the finish line, I felt an indescribable feeling of joy and relief. It felt awesome! As I stepped onto the blue mat, the announcer screamed, "And… from the Philippines….. race number THREE-TWO-THREE…. ANTHONY…. REGEEEZ!!!
"My surname wasn't pronounced right but I didn't care! Boy, it felt awesome. It felt like I finished a full Ironman! With tears in my eyes, I raised my fist high and said to myself, 'YES I made it!'
"My run timed 3 hours and two mins. and my total time was seven hours, 35 minutes and 17 seconds (including time in TA).
"The Aviva 70.3 Ironman Singapore Triathlon has ended but my journey has only begun. Now I look forward to the next one."