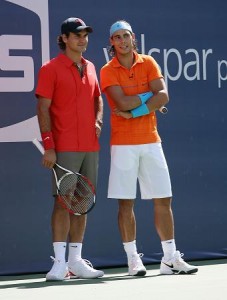 Bobby Aboitiz: Tough one, John… Federer's control and methodical and reliable play vs. Nadal's brilliant moments and passion… Its like Germany vs. Brazil in a soccer World Cup final… Stats would favor Federer, but my heart is with Nadal.
Steve Benitez: My pick is Roger. He has worked hard to gain back his form and confidence after going through a humbling experience of setbacks. He is now more driven to prove that, indeed, he is the best ever, and he needs this win to prove that.
Fabby Borromeo: I want Rafa to win but the odds favor Roger after Rafa's 5-set semis match that must have drained him. I also think they should schedule both the men's semis on Thursday cause it's unfair to the winning player of the 2nd semis. Vamos, Rafa!
Fr. Joy Danao: I'll go for Rafa cause he's hungrier and he has improved his game vs. Roger; though he humbly respects the master magician and his enormous talent. Go, Rafa!
Jeffrey Dico: Rafa. He's at his peak and the world #1. Also very hungry for 1st Australian Open.
Steve Ferraren: I pick Roger because he's fresher of the two. Besides, Roger has a better hard-court grand slam record and, of course, the incentive of matching Pete Sampras' record of 14 grand slams.
Dr. Manny Juanillo: The wise money pick is Roger cause he has been in peak form and well rested, but my choice is Rafa. He has also been in terrific form plus he returns all balls thrown at him until the other guy makes a mistake. Roger should be no different.
Atty. Frank Malilong: Nadal because of his stamina and because he's left-handed, ha-ha. Bitaw, Roger is a nice guy but I don't want Pete's record broken, not even by a nice guy like him.
Dr. Ronnie Medalle: Federer in 5 sets. He's more fit in this Open; he has added a new dimension to his game (better service) and Nadal just came from a 5 setter.
Andrew Ong: Rafa… His last year's two grand slam wins give him a psychological edge.
Bernard Palermo: I pick Rafa cause I don't want Roger to tie up the record of Sampras; though Roger is still No. 1 for me.
Reneeven Polinar. Roger. He has to win or else Sampras will still be the best ever.
Manny Sainz: I'm for Rafa because I have 75% Spanish blood while none at all in Federer's system. Ha-ha-ha. Viva, Rafa… Viva, Casino Español.
Architect Ed Samson: It's going to be Nadal again because Federer psychologically is threatened by Nadal. Federer has a good first serve but oftentimes fails on their rallies.
Jun San Juan: My son Nikko is a diehard fan of Roger but I'm for Rafa. Why? The high-bouncing forehand of Rafa going to Roger's backhand is a sure point; the service going to RF's backhand is another sure point and the rest is 50-50. Depende sad kung kinsa ang maayo ang biorhythm sa dalawa but still Rafa ko.
Emma Siao: Rogerrr! He had some bad days last year but he's coming back more focused this 2009. I love the way Roger carries himself. He's not only cute (you know, mestizo) but he plays cool… every inch a gentleman, never shows negative emotions and keeps his poise even in the brink of defeat. He has a trait some players don't have: Humility.
Sally Mae Siso: Roger. He's my idol and he's wiser. Nadal's also good, only that he's a lefty.
Michelle So: A Federer-Nadal match is not good for my well-being. My back and neck stiffen, my throat gets parched, my breathing is short. Bahala na. It's Federer Forever!
Fritz Tabura: Federer. He is fresh while Rafa, after the semis, is tired.
Babaw Tiongko: Roger will win because after the 3rd set in the 4th round against Tomas Berdych, he's become like his old, dominant self of three years ago. He trashed Del Potro 3, 0, 0 and Roddick easily.
Chinggay Utzurrum. Forever FEDERER is my pick. Unlike last year when saddled with a medical burden, 2009 sees a new Roger. Definitely smarter. Undoubtedly sharper. Swifter in topspins and obviously stronger. All these make him invincible! Go for the gold, Roger!
Mark Yang: Nadal because he's younger, faster, has more stamina and his topspin strokes clear the net comfortably.