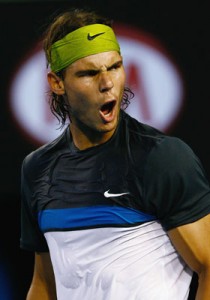 (Getty Images)
Has there ever been an athlete as untiring and inexhaustible?
Finishing his semi-final against Fernando Verdasco in 5 hours, 14 minutes, he's only allowed one day's rest before beating Roger Federer in 4 hours, 22 minutes. In total, that's 24 minutes shy of 10 hours of scampering for drop-shots, leaping for overheads, pouncing for volleys, swiveling from left to right for backhands…
Has there ever been a man wearing tennis shoes as unflagging and indefatigable?
While everyone, including Star Sports announcers Vijay and Allan, concluded that he'd be wearied and debilitated last Sunday—the opposite happened: the Spaniard was perky, hyper, vigorous. He was a Spanish ball of fire who, amidst the warm Melbourne air, burned and melted the cool Swiss Alps.
Why is Rafael Nadal, against the man poised to be named The Greatest Ever, seem so unconquerable?
Is it because of his muscles—that they're bulkier and more robust than the lean figure of Roger? His left-handed spin that curves the ball from his stronger forehand to Roger's weaker backhand? Is it the spin off his strokes that produce outlandish bounces never seen before?
True, true, true—but none of these matter more than this:
His mental strength. His heart. His spirit. His willingness to suffer pain, absorb it and transform that hurt from French Open trophy to Wimbledon plate to Australia's Wizard of Oz.
His unbending belief in himself. His desire. His dogged hunger. His passion to win, as he did in one of the most amazing points I've witnessed—at 2-all in the 4th set—to sprint from right corner to left wing multiple times, to twist his body, slide, scramble, sprint for a forehand winner.
Tenaciousness, it's called. Nadal, it's personified.
The opposite, I believe, holds true for Federer. While he mentally annihilates everybody else on the ATP Tour (think Andy Roddick, who's lost to him 16 of 18 times), against Nadal, it's RF who succumbs to a psychological breakdown. In mind games, RN "owns" RF.
Remember the 5th set? Just when we witnessed four awe-inspiring sets, the final set was a Roger Disaster. He sprayed three unforced errors on that 4th game plus a double-fault to, minutes later, literally hand the Australian Open trophy to his tormentor. "He succumbed to the pressure, for whatever reason," said Patrick McEnroe. "Obviously, the guy's in his head. That's pretty clear at this point."
How painful was the loss to Roger? "I think this was a tougher beat than Wimbledon," said Brad Gilbert, the former coach of Andre Agassi. "[Nadal] was completely out of gas, but he found a way to the finish line. Incredible. He has so much fight. Wimbledon was gut-wrenching, but [Federer] won the Olympic doubles and the U.S. Open and salvaged his year. This one stings more because it was the first of the year. It was going to re-energize him. Now he's lost five out of seven majors to his greatest rival."
Do I still believe Roger will break Pete Sampras' 14-slam record? Absolutely. Only 27 years old and owning 13 Grand Slam titles, he can, without a cinch, surpass that mark. The question is…. When?
Will it be at Wimbledon when, after winning his 5th French Open crown, Nadal will be even more unshakable? At the U.S. Open when Murray and Novak Djokovic would have further improved?
Another question—one that was posed the other night when Macky Michael, Dr. Ronald Anthony Medalle, Atty. Jovi Neri and myself watched together—is this: Can Roger lay claim to the "Greatest Ever" accolade despite a badly losing record against Rafa?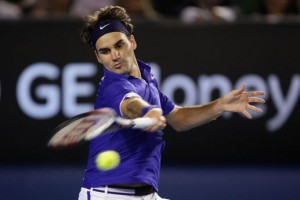 Head-to-head, we know Nadal leads 13-6. Can RF be named Best Ever despite being second-best to RN? The answer, we concluded, is still Yes. Examined closely, on grass, they're 1-2 (in favor of Roger) and, on hard-court, it's 3-all. The remaining matches, it's 10 of 19 on clay—a surface where Nadal is invincible.
So, in due time, Roger will claim Major No. 14. But, for now, there is only one champion—and two people smiling: Nadal and Sampras.