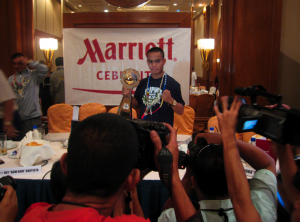 Last night at 6:30 p.m., I spoke to one man who's largely responsible for the mega-production that Cebuanos will witness this Saturday: the WBA interim super flyweight championship battle between Panama's Rafael Concepcion and Cebu's AJ Banal.
Michael Aldeguer. The president of ALA Gym, I spoke to Michael over the phone last night about this weekend's fight….
What makes AJ Banal, I asked, special?
"His IQ for the game," said Michael. "He's only 19 but, compared to others, he's advanced. He also has excellent all-around skills. Plus, AJ's ability to adapt to any style. He can change tactics depending on his opponent's style."
Is it true, I next asked, that this early on AJ is being labeled as the "next Pacquiao?"
Michael demurred. "There can never be another Manny Pacquiao. And we all have to thank Manny because, with what he's done, he's opened opportunities for so many Filipino boxers."
Third query: AJ has won all his 17 fights with 14 of those via knockout. "That's an 82% KO percentage—very high," I told Michael. "So what round will AJ knock Concepcion out?"
"It's hard to say," said Michael. "It's hard to predict. AJ is also very patient. But if he sees an opening, he'll go for it. The good thing with Concepcion is that he's right at you. He'll slug it out with you; he won't box out. So AJ has to stick some jabs and, if there's an opening, go for the KO."
Full house? Will the venue be jampacked?
"We've never gotten this kind of response before," admitted Michael. "When we announced this fight a month ago, we got calls from Japan, from as far as Panama, from Australia, Mindanao… it's encouraging. So, hopefully, yes, we'll have a full house."
Ticket prices? "Very reasonable," said Michael. "We have P2,500, P2,250, P2,000, P1,500, P500, P300 and P150. You'll notice that the bleachers price (P150) is the same as during the fights of Gerry Peñalosa and ALA Villamor a long time ago. We've made sure to make the tickets affordable."
In many past fights, we've seen many foreign fighters so hyped that Cebuanos would think they're strong. Then, in the actual bout, the visitor gets KO'ed in the early rounds. Are we sure Concepcion (who sports a 10-win, 2-loss record) is strong?"
"The ratings committee dictate the ratings and Concepcion is WBA No. 6 in the world. So, yes, we expect him to be tough. Plus, of course, they don't just place anyone in a WBA world championship.
"But let's take the case of AJ's latest fight (last April 6) against Caril Herrera. That guy was 21-0; never lost. He was ranked No. 2 by the WBC. So we expected him to be very tough. But AJ knocked him out in the fourth round. So it's hard to predict. There are a lot of factors to consider. But a big factor is also the strength of Banal."
Next, I asked Michael, "How do you feel watching your boxers fight? Do you get anxious, scared?"
"AJ is almost like family," Michael replied. "I watched him grow up. He was with us since he was nine years old. When he turned 10, he was part of the ALA program. So he's like a brother to me, he's like a son to my dad (Tony). But at the end of the fight, to us what's most important is their health, that they're okay.
Then Michael spoke about his dad, ALA himself, Antonio Lopez Aldeguer.
"You know, when my dad was very young, he paid his way to watch Flash Elorde. He never missed a fight of Elorde at the Cebu Coliseum. So, this Saturday, for my dad to be at the same Cebu Coliseum but, this time, watch his fighter, AJ Banal, hopefully win that world championship…. that gives him goose-bumps… it's really, really special."
Finally, I asked about AJ, if he's ready and energized.
"AJ grew up in Brgy. Ermita and walked along the Cebu Coliseum. He lived right behind the coliseum. So to be fighting at a place that's beside his home is a dream."